Last updated on October 27th, 2011 at 09:59 pm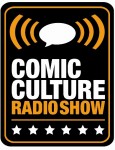 Very funny show this week. The Comic Culture hosts Chris Owen and Walter Durajlija have a blast discussing potential movie properties including Hot Wheels and Double Bubble, Amazon's foray into publishing, Hasbro's latest successes, the new Batman Arkham City video game, Walking Dead's second season, a new Tintin trailer, Avengers Assemble and a whole bunch more cool stuff so please kick back, relax and enjoy  Comic Culture, the radio show full of possibilities.
Comic Culture is produced by Anthony Falcone and is engineered by James McIntosh.
Enjoy Comic Culture October 19th 2011 Edition