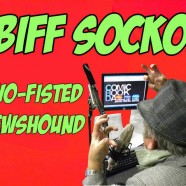 Sep

25
Tags
Related Posts
Share This
"I'm a Level 53 $$$ Playboy In the Petroleum Industry"
It's time for another update from BIFF SOCKO, TWO-FISTED NEWSHOUND. Biff Socko covers Comic Book News like zits on the A-V Club. Faster than Perry White! Stronger than J. Jonah Jameson! Hotter than Cat Grant. He is…BIFF SOCKO!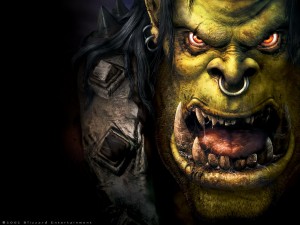 DATELINE:  Hollywood. Director Duncan Jones is wooing COLIN FARRELL to appear in the upcoming movie WARCRAFT, based on the hugely popular MMORPG. Farrell, of course would play the part of "GUY WHO STEALS YOUR GIRLFRIEND WHILE YOU STAY UP TO FOUR A.M. PLAYING WARCRAFT".
DATELINE: Arkham. Batman: Arkham Origins has a special "Knightfall Pack" which has a number of new skins. Included in this pack is the "Classic TV Series" skin that gives the player the opportunity to have the look of Adam West in his 1960's Batman TV series costume. If you press the X button he throws a Batarang. If you push the O button he scales a wall. If you hold both and press the left bumper he dances the BATUSI with Jill St. John.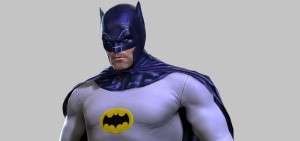 DATELINE: Caracas.  Venezuelan President Nicolas Maduro maintains that there is a correlation between youth violence and super-heroes. Maduros says he came to this conclusion while watching SPIDER-MAN 3 with his wife.
--First off, Nicky, shut the hell up. We don't tell you how to drill for oil, Don't tell us how to do superheroes. IT'S OUR NATION'S  LEADING EXPORT!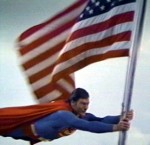 –Next, this is your country's TOP Superhero: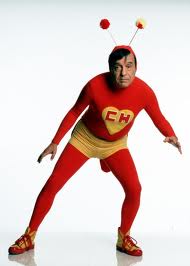 El Chapulin Colorado…The Red Grasshopper. Need I go on?
–Finally, what kind of crappy Date are you? You watched SPIDER-MAN 3 with your wife? Is there not a sub-titled version of SILVER LININGS PLAYBOOK available? Look, Nick, I can understand your anger, after all, I saw the Toby Maguire disco-dancing scene, too, but let's not over-react here.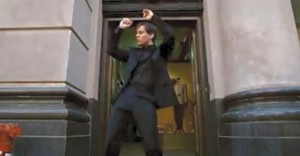 STAY INFORMED, DISCERNING READERS! STAY ALERT, INVOLVED CITIZENS! STAY CLASSY, BOTTLE CITY OF KANDOR!! FOLLOW BIFF SOCKO ON TWITTER @bsocko
BIO BY MADLIBS: Clint McElroy is a/an (ADJECTIVE) writer with a God-given gift for (NOUN). His favorite activities include (ACTIVE VERB), (ACTIVE VERB), and twisting the heads off of (PLURAL NOUN). He is also rumored to possess an impressive (NOUN).