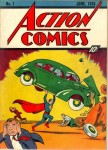 Feb

22
Tags
Related Posts
Share This
Superman Makes History – Again
We all knew it was only a matter of time and on Monday February 22nd it finally happened, a comic book sold for $1,000,000.00. The ComicConnect auction site now has the honor of being the first to reach this milestone.
The million dollar comic is a CGC graded 8.0 (with Off White pages) copy if Action Comics #1 published in 1938. Action Comics #1 is of course famous for introducing Superman. It was the success of Superman that really made everything we see around us today possible. Action Comics #1 ushered in the Golden Age of comics and created the still dominant genre in comic books, namely, super heroes.
Action Comics #1 is the most important comic book ever published. The Overstreet Price Guide, considered the bible to comic collectors, used to rate historically significant comics with a star system. The scale ranged from 1 star to 5 stars with one exception, Action Comics was the only comic given a 6 star designation.
What Comic Connect has done here is stole some mighty big thunder from rival Heritage Auctions. Heritage has advertized its current big lot of Golden Age heavily around a CGC graded 8.0 copy of 1939's Detective Comics #27 (1st appearance of Batman). Everyone expected this comic to set a new price record for comic books and the million dollar figure was being whispered as a possibility. Heritages auction ends this weekend.
Congratulations to the crew at Comic Connect and congratulations to comic collecting in general. This result can only help propel the industry to newer and loftier heights.
Walter Durajlija is an Overstreet Advisor and Shuster Award winner. He owns Big B Comics in Hamilton, Ontario, Canada