Last updated on August 26th, 2012 at 05:39 pm
Chewing the Fat: Chew Q&A with Layman and Guillory panel
I was pretty excited to go to this panel. It was really the only one I wanted to go to today (Friday) so, I got off the expo floor early to line up. To my surprise there was no one waiting in line when I got there. I sat down and chatted with another Chew fan for a while before getting let into the room. The panel was a lot of fun. Layman and Guillory were very casual and comfortable in front of the crowd. The two answered the standard questions right off the hop. Where did the idea come from? "I don't know," said Layman. Why does he have this unique super power? "Not sure, it just came to me."  I was pretty entertained by the answers to the crowd's questions, but what I was most interested and excited about was Chew TV.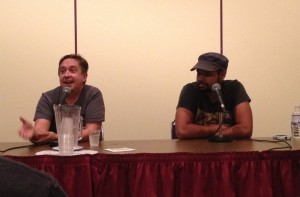 The pair were very quick to announce the pick up of their beloved comic. It is currently in development with ShowTime the same channel that airs Dexter, Californication, Weeds and The Tudors.  The producer/director will be Stephen Hopkins, who has also done 24, Californication and Lost in Space (yes the movie). And, writer Brian Driffield has also signed on. He was a long time Chew fan who sought out Layman and asked to write for them. The original plan was for the show to be half an hour, but with the success of shows like Walking Dead, that quickly changed.  I was happy to learn that the now hour-long show will keep its Chinese-American main character. After hearing the news a fan quickly asked, "Do you have any actors lined up?"  Layman responded that they had been asked many times at previous cons who they would want to play the main character, Tony. Both Layman and Guillory thought Ken Leung (who plays Miles Straume on Lost) would be prefect for the part. Leung caught wind of this and started reading the Chew comics, he even passed them along to some of his co-workers on Lost. With hope, he may be the live-action version of Tony Chu.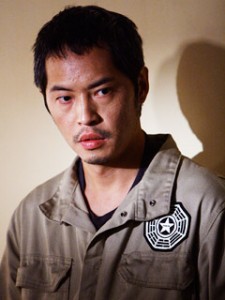 With the television series in the works, the question of "what will happen next?" came up. The series is currently around issue #30, the plan is for the comic to run till #60. At 60 it will end, no ifs ands or buts. So with the run only being half way through, I am excited to see what is coming up.
The writer and artist tried to hint here and there about the future plot. Layman even tried to get people to ask questions about it, but the fans at the panel didn't seem interested in spoilers. They all just want to wait and see how the story unfolds in the comics, and who can blame them? Chew is currently one of my favourite running titles, I don't want it to be ruined by a spoiler. I want the story to unfold naturally. I am just happy other Chew fans feel the same way.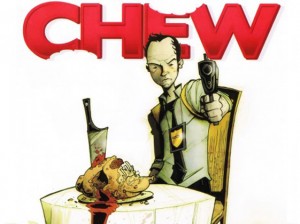 All in all, I was pretty impressed with their panel. I even got a chance to visit them on the Expo floor. If you are at Fan Expo this weekend, or ever get a chance to meet them in the future, be sure to say Hi and check out their stuff. Good people, good art, good writing. You can't go wrong!