Aug

14
Tags
Related Posts
Share This
Kevin Smith speaks about fan reaction to Batman's "bladder spasm"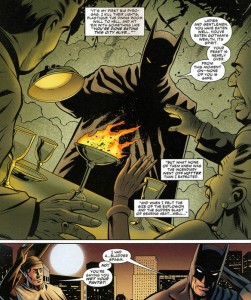 Ok, for those of you who haven't read Batman The Widening Gyre by Kevin Smith and Walt Flanagan might be a bit perplexed by the idea of Batman having a bladder spasm and are wondering what the rumblings on the internet is all about in comicdom. At one point in the 6th issue series, Batman reveals to this new hero Baphomet that during his first year as Batman,  during Frank Miller's Year One, he made an appearance at Commissioner Loeb's dinner party by blowing up a wall and walking through, he had a "bladder spasm" as he underestimated the effectiveness of the explosives used. Fan reaction to this was immediate and enraged it seems as Kevin Smith's twitter became swarmed with fans of Batman outraged that the "goddamn Batman" would pee his pants. Well, Kevin Smith and Walt Flanagan respond to fans on their podcast "Smodcast" which can be found here. (warning explicit language)
Basically for those of you who don't want to download the podcast, Kevin Smith asserts that Batman at this point in Year One is still a bit inexperienced and that by underestimating the strength of the explosion, the intense heat of the explosives made him have a small bladder spasm. Smith also states that he never explicitly said that Batman peed his pants, it was more like a few drips. He also adds that this heat causing pee is from personal experience from when needing to pee whenever he sits on Backdraft the ride and the intense heat makes him need to pee. So yeah, this is probably one of the funniest comic related news items of the months.
Comic Book Daily, discussing the minutiae of comic book collecting. Thanks for stopping by; if you like what you read please take a moment and have a look around.