Aug

02
Tags
Related Posts
Share This
Pete DeCourcy Punches His Way Through History #2
As a lover of punching and a lover of history (so that I'll never repeat past mistakes) and a lover of fine art, it has long been a goal of mine to find a way to combine these three loves into something beautiful.
That's when I decided to get comic artists to draw pictures of myself punching famous historical figures.
Yep.
I don't really have rules for this, outside of the fact that I let the artist choose just who I should be punching in the face.
This time out, Indie Artist William Brian MacLean who took a more modern view on just who I should punch. Braveheart himself: Mel Gibson.
For those of you unfamiliar with this rising indie talent, here's a quick biography:
William Brian MacLean's pre-artistic beginnings as the weird kid in
the corner who wouldn't talk to anyone have been largely forgotten
and, when remembered, quietly forged. Someone is following him,
someone else is monitoring his calls, yet another someone keeps track
of his meds and amps up the radiation in his cordless phone, yet he is
negligently aluminum-foil-free. In this and many other ways Brian is
irresponsible, yet he's the best person to have on your side in a
debate. Brian's current work in comics is a return to his roots after
a two decade excursion into rock guitarist hedonism. His latest work,
LYNCHPIN #1, is his 5th self-publication & is available both in-store
& online. It received a glowing review from American online magazine
Optical Sloth.
So without further ado, I present Pete DeCourcy punching Mel Gibson in the face: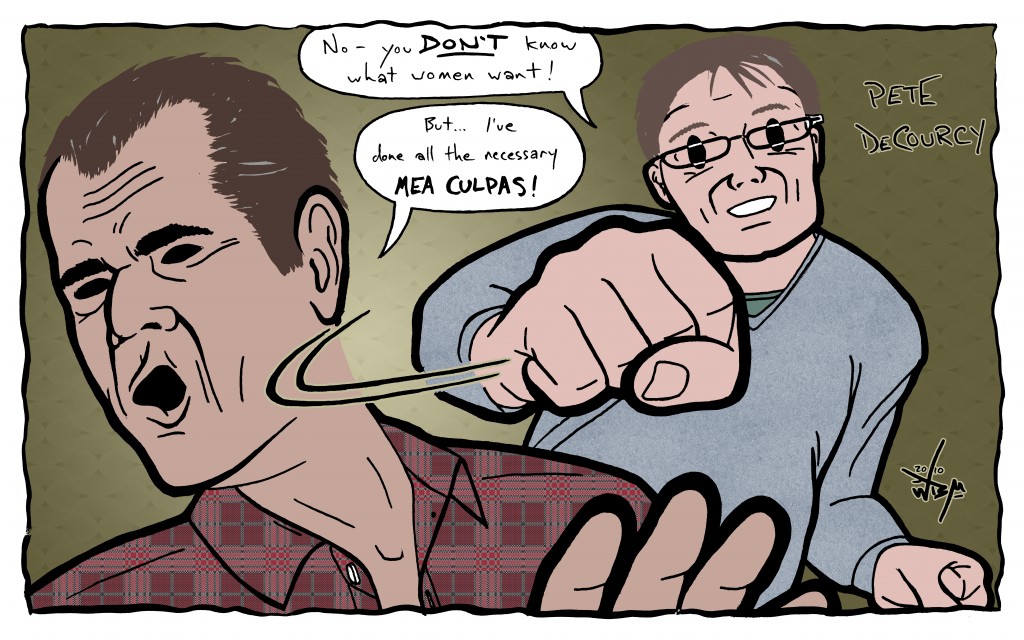 If you'd like to learn more about William Bryan Maclean check out his facebook group The Facebook Comic Con his personal website or you can contact him directly at his email address
see you next time!
Pete DeCourcy is EiC of ComicBookDaily.com. He tumbls over at You Practically Rock and writes for The Simple Art of Crime. If you have any questions or demands of him, he can be reached via email at pdecourcy[at]comicbookdaily[dot]com
Comic Book Daily, discussing the minutiae of comic book collecting. Thanks for stopping by; if you like what you read please take a moment and have a look around.