A giant sized look at his early Spidey run, John Romita's The Amazing Spider-Man is the best book yet for fans of these iconic characters' designs.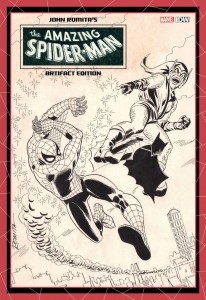 This is it, the John Romita Spider-Man book fans have been waiting for—Nearly 200 pages of prime John Romita Spider-Man art from his very earliest days on the title, and all but 10 are scanned from the original art (NOTE—we decided to add stats of those 10 pages to complete stories. So while this is an Artifact Edition, there are FOUR complete Romita Spider-Man stories in the book)! This over-sized (it's as big as the recent STERANKO Artist's Edition) Artifact Edition showcases the absolute peak of Romita's tenure on Amazing Spider-Man from his first 15 issues (#39 – #53), and all are twice-up pages—this one is an enormous 15" x 22" tome!
Please continue to The Artist's Edition Index for the complete review.