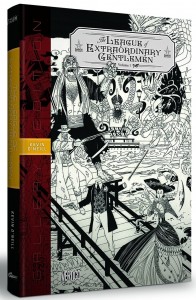 As the Victorian era draws to a close, Allan Quatermain, Captain Nemo, Hawley Griffin, Dr. Henry Jekyll, Mr. Edward Hyde and Mina Murray have been gathered together to save their nation. Now, the original adventures of this group have been collected and sourced from the original art for the first time ever in THE LEAGUE OF EXTRAORDINARY GENTLEMEN: KEVIN O'NEILL GALLERY EDITION.
This Smythe-sewn hardcover edition includes all of Kevin O'Neill's artwork from the original six-issue THE LEAGUE OF EXTRAORDINARY GENTLEMEN miniseries Vol. I, scanned in full color from the original art boards. Also included are the covers and various League artwork that showcase Kevin's incredible craftsmanship.
As with all original artist's gallery editions this is a collection of classic comic material and I'll be reviewing the book and not the story. For a complete list of all current and announced editions, with review links, please visit our Index.
This is the complete package: all pages and covers present, scanned from the original pages. Nothing missing. Plus a large gallery of extras from later collected editions. All wrapped under the "Volume One" label promising future editions.
Eleven individuals and two auction houses are thanked for providing material so it certainly seems to have been a task to collect and scan. Most of the pages are slightly yellowed with no significant aging present.
The six issues are presented in order with their cover prefacing each issue. Following those is the Kevin O'Neill Gallery, with endpapers, collected edition covers and such. Then comes the Allan And The Sundered Devil gallery, showing full size the images that accompanied Moore's prose tale.
This is a shadow and black heavy book and it comes through wonderfully. There are gradients in the black but that's more from O'Neill's inking; it's there, just not strikingly so. Lots of pencil still visible around the inks; a great look and feel to the pages.
It seems William Oakley had some trouble with Allan Quatermain's name in the first issue (or perhaps Moore's script) but his name is spelt Quartermain until issue two. Another nod to the original pages as a moment in time.
And as a Gallery Edition tradition one overlay is included, putting the cover text over the painted cover of issue four.
Unfortunately most of issue three suffers from a slight blur. It's hard to tell if it was the scans or the post production, as there is pixelation in several spots, especially pages 13-15. It's quite detracting but not alarming, and stands in stark contrast to the crispness of the rest of the book.
Another great design by Brainchild Studios (seems NYC has been dropped). The repeating pattern endpapers give the feel of a Victorian book, and the chapter dividers feature a main character portrait on a Union Jack background. A minimal use of colour and prudent choice of original art present a clean and concise package.
Production design is excellent: heavy paper stock with reasonably tight sewn binding that allows for the book to lay mostly flat. It comes shrinkwrapped in a cardboard case with black and white illustrated label with price and UPC. No introduction or biographies included.
Along with Bob Chapman Joseph Melchoir is listed as editor, with production as Gayle Blume, Richardo Carbajal and Gina Chapman. The cast is expanding as Graphitti Designs completes its fifth Gallery Edition.
---

League Of Extraordinary Gentlemen Gallery Ed HC – $100.00
Retail Price: $125.00
You Save: $25.00