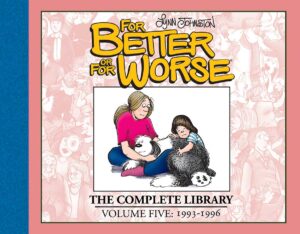 This volume features one of the most beloved stories in the strip's history—the saga of Farley, the family dog. When little April gets into big trouble, it is up to Farley to come to her rescue. But that isn't the only big event in the lives of the Pattersons. Michael heads off to college and begins his road to journalism. Along the way, he meets his new roommate and is reunited with an old flame. Elizabeth, meanwhile, navigates her teen year, has her first serious relationship, and spends a summer on the farm—a rite of passage that Michael took five years earlier. Back at home, Elly and John deal with adult problems such as house renovations, career changes, and menopause. Lynn Johnston keeps the ongoing narrative fresh and interesting, developing each character in realistic ways while successfully toeing the line between soap opera drama and situation comedy. Includes every comic strip from April 25, 1993, to August 31, 1996.
ISBN 978-1-68405-750-4
11″ x 8.5″, 544 pages, hardcover
$49.99 USD
Order online: Amazon
Continue to the full review on eBabble.