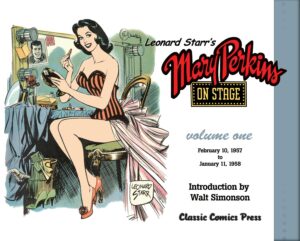 Through special arrangement with Tribune Media Services, Classic Comics Press is pleased to present Volume One of the complete Mary Perkins On Stage by Leonard Starr! Plans are to reprint this classic comic strip's 22-year run! Each volume will contain 2 to 4 complete storylines, original art, articles on the history of the strip and its artist, and more! Volume One includes 4-Color Front & Back Covers. The first three 'On Stage' Storylines: February 10, 1957, to January 11, 1958. Introduction by Walter Simonson.
ISBN: 978-1424310234
Softcover, 11″ x 8.5″, 272 pages
$21.95 USD
Continue to eBabble for the complete review.