* I'm on a bit of a music geek kick this week and I thought it'd be interesting to revisit something I wrote for somewhere else and maybe spruce it up a bit and update it. The following article was published by Explore Music (July 14th 2009) in conjunction with Alan Cross and Nathalia Ribeiro who both worked for the site at that time. Both folks are incredibly talented and gone on to other ventures. I've added a few images and anything in italics is new info or clarification.  Enjoy. *
Hi everyone. My name's Brent Chittenden. You may remember me from such TV shows as "Explore Music Episode 15" or the website/podcast/holy terror Two Assholes Talking About Nerd Stuff. I am here to tell you about a secret world where nerdy and cool collide.
I'm talking about the secret world of Rock 'n' Comics.
Last week, DC Comics quietly announced that guitarist Scott Ian of Anthrax was being slated to write two issues of the often-violent and occasionally silly character franchise, Lobo. (It ended up being a mini-series drawn by Sam Keith called Highway to Hell)
This took a lot of people by surprise, both in comic and rock fandom, but the truth is, the world of rock and the world of comics have been intertwined for a long time.
From character name-drops to writing to art, comics and rock have been have been trading talent, or more appropriately co-opting it, since the 1960's. The art of many of the great underground comic artists of the day, work by guys like Robert Crumb and Spain, were used regularly by the Haight-Ashbury crowd mainly for posters and the like. Crumb's piece "Keep on Truckin", for instance, became synonymous with the Grateful Dead; the band later recorded a song called "Truckin" that featured a line directly referencing Crumb's famous work.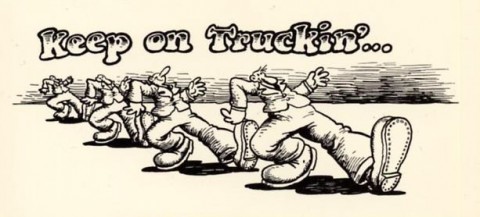 The funny part is, Crumb wasn't even a fan of the Dead's brand of hippy music. He was, and still is, very much a jazz and blues guy: so much so, in fact, that he created a series of portraits featuring early blues, jazz and country artists. For the hardcover of his collection, Crumb helped put together the track list for the accompanying CD.
In the 70's there were more connections being made on both sides.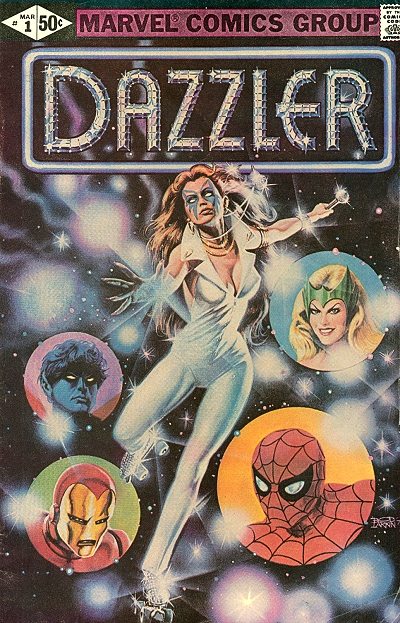 Alice Cooper and KISS both got their own comics (KISS's comic famously featured the band members' blood mixed in with the ink). KISS's record label, Casablanca Records, took the comic connection even further, partnering with Marvel to create a disco super hero in the form of Dazzler: a mutant who could create bright lights and sing to the disco beat. The comic was supposed to be the start of a franchise that would include albums, movies (possibly starring Bo Derek) as well as comics. And while the movies and albums never appeared, Dazzler is still kicking around today as an X-Men alumnus.
The 80's and 90's saw comic companies beginning to create their own lines of rock 'n' roll-themed comics. Marvel developed a short-lived line that was to include a comic written by – and maybe even drawn by – White Zombie frontman Rob Zombie. Unfortunately, the line was quashed before Rob's comic was finished. Chaos Comics produced and released a four-issue series with Megadeth, coinciding with the release of the band's album Cryptic Writings. On the music side, Swedish death metalers Entombed recorded a track called "Wolverine Blues"…although they were apparently not happy with the friendly, edited version of the album that featured a Wolverine comic inside.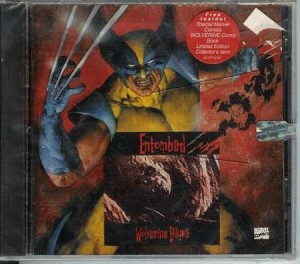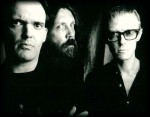 Alan Moore, arguably one of the greatest – if not the greatest – comic book writer ever, formed a band with David J of Bauhaus called The Sinister Ducks, and released a 12 inch single entitled "March of the Sinister Ducks". Moore and J also recorded a 12 inch of "This Vicious Cabaret" from Moore's work V for Vendetta. Alan has also more recently recorded a 45, to go along with his graphic novel The League of Extraordinary Gentleman: The Black Dossier (whatever happened to this? We know it was recorded but it has yet to see the light of day). J also accompanied Moore with music in a performance of a magic spell/art performance piece written by Moore.

The late 90's and early 2000's saw more crossing over on all sides, with more musicians letting their fanboy flag fly. Rap started getting into the game: rappers like the Wu Tang Clan, for example, name-dropped Tony Stark (alter ego of Marvel's Iron Man) in several tracks. There's even a rapper named David Banner (real name Levell Crump) who took his stage name from original Incredible Hulk TV show. Even the late Michael Jackson showed his fanboy colors – he came close to helping buy out Marvel Comics during the mid 90's.
Several creative music/comic partnerships were formed during this time as well. Comic writer Steve Niles (writer/creator of 30 Days of Night) teamed up with Rob Zombie for creative ventures like The Nail and Bigfoot, comics custom-designed to be adapted for film. KISS teamed up with Todd McFarlane of Spawn fame to produce another KISS comic series. Comic writer Grant Morrison and frequent artist collaborator Frank Quietly did the album artwork and design for Robbie Williams' Intensive Care album.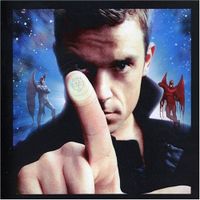 Apparently Morrison and Quietley's work was made to be read as some kind of transcribed magic (magik?) spell to help the world.
Did I mention comic people can be a little odd? 
Claudio Sanchez wrote a comic series called The Armoury Wars as an accompaniment to the sci-fi concept albums of Coheed and Cambria (Much like the story in the albums, it was a little hard to follow and kind of…strange). Recently, emo-rock group Fall Out Boy has approved a comic based on their lyrics and concepts, to be created and published by Dabel Brothers publishing.
But out of all the crossovers between comics and music, two artists currently stand out above the rest.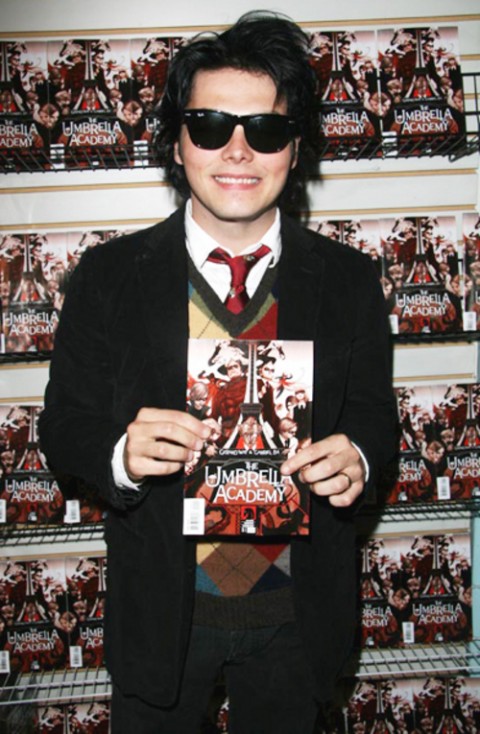 Gerrard Way, front man for My Chemical Romance, currently writes a comic called The Umbrella Academy. It comes out in six-issue story arcs and is kind of like an eclectic mix of The Incredibles and The X-Men.  The characters are somewhat outlandish: take Spaceboy, for example, whose head is fixed to the body of an ape. And he lives on the moon.
And it is good.
Really good.
Speaking as a comic fan and not as a fan of Way's music at all, it's amazing how good The Umbrella Academy is, coming from a guy who has never really written comics. The first story arc even won an Eisner (the comic version of the Oscar) for Best Limited Series. (We're still waiting for more Mr. Way, two volumes ain't enough)
The second creator who stands head and shoulders above all others in the crossover department is Neil Gaiman. Now a New York Times best-selling novelist and screen writer, Neil got his start and most of his fame writing a comic series for DC Comics called The Sandman. The series followed the character Dream (the lord of all dreaming) and his dysfunctional family of gods; Destiny, Death, Desire and Despair, Destruction and Delirium (who used to be Delight). The series is incredibly well-written and is on the required reading list in many college courses, university seminars and writer's workshops worldwide.
While on a signing tour for Sandman in 1991, someone slipped Neil a demo tape. This was not an unusual experience for Neil, as for whatever reason, a lot of musicians really connected with the Sandman series. The tapes Neil was given usually ended up being bad metal. When he listened to this particular tape, however, he was incredibly happy to hear the voice of a young woman accompanying herself on piano.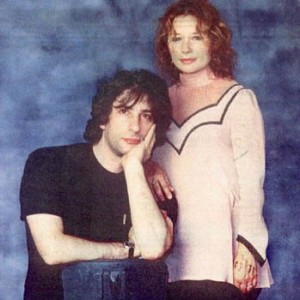 The girl was Tori Amos, and the demo tape eventually became Little Earthquakes. Both Neil and Sandman were mentioned in the song "Tear in Your Hand". This strange meeting soon lead to an interesting friendship and several collaborations between the two artists: Tori wrote the introduction to the graphic novel Death: The High Cost of Living, and Neil in turn wrote stories for Tori's concert programs as well as the back stories for the characters featured on the album Strange Little Girls. Tori is also the basis of a character in Neil's work Stardust (which has seen publication as an illustrated novel, a text novel, a comic book and a film). Tori's a talking tree. Neil is also godfather to Tori's daughter Tash. (Neil also wrote the excellent Blueberry Girl for Tori and her daughter. If you ever have a friend who is expecting a daughter, this book is a must my. Guaranteed to make everyone weepy)
In addition to his collaborations with Tori, Neil has also worked on a book with Amanda Palmer of The Dresden Dolls to accompany her solo album "Who Killed Amanda Palmer?" (As we now know, Neil ended up marrying Amanda Palmer) and also wrote "The Last Temptation of Alice" comic for Alice Cooper.
Speaking of Tori, other comic people like Tori as well. Recently a collection of comic book short stories was released, based on Tori's songs, called Comic Book Tattoo, including contributions by David Mack, Jonathan Hickman, Leah Moore and tons of others, complete with an introduction written by Neil.
The Rock 'n' Comic connection is also taking root in the children of rock stars.  Both Nick Simmons (son of Gene) and Jesse Snider (son of Dee from Twisted Sister) have their own comics out (Nick was later the center of some controversy due to alleged plagiarism. His book was pulled and has yet to be finished. Jesse has being doing some great work including a run on Toy Story for Boom!)
And there's a huge list of rockers who are devout comic fans. Burton Cummings, Sebastian Bach, Ryan Adams, Gene Simmons, Alice Cooper, Kirk Hammett, Glenn Danzig (who at one point had his own comic book company), Corey Taylor, Fall Out Boy, Love and Rockets (who took their name from The Hernandez Bros comic), Neil Young, Mathew Sweet, John Dolmayan from System of a Down (John is such a fan in fact he not only started his own online comic book store but also has a custom drum kit covered in original comic book art work) and many more.
So you see, the Rock 'n' Comic connection ranges farther and wider than you might imagine. Hopefully this article has proved once and for all that while some of us comic people might resemble the Comic Book Guy from The Simpsons (okay, many of us do)… some of us also look like rock stars.
Since this article was first published, Neil Young helped guide a graphic novel based on his Greendale album from DC Comics. Scott Ian was going to return to DC doing something with The Demon but I imagine it's either taking a long time or canceled due to the New 52. And if you really like Kiss comics, right now you can buy a mammoth hardcover in most Chapters and Indigo book store remainder bins for around $25 bucks.