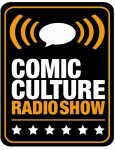 Another fun show this week. Hosts Chris Owen and Walter Durajlija discuss the Video Game censorship, the Green Lantern movie, DC's decision to not write comics with trade paperbacks in mind, the passing of Gene Colan, thoughts on the Kirby/Marvel lawsuit and a continuation of reviews of all the new DC #1's coming this September. Now kick back, relax and enjoy  Comic Culture, the radio show full of possibilities.
Comic Culture is produced by Anthony Falcone and is engineered by James McIntosh.
Enjoy Comic Culture June 29th 2011 Edition.