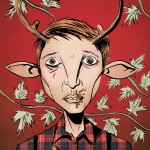 It's very rare these days to find a writer/artist getting their own on-going series. (Well, unless you're Paul Pope.. but I'm sure even he had to start somewhere – Kodansha if memory serves.) So the fact that Jeff Lemire, a nice Canadian boy who's won acclaim for his Essex County series of Graphic Novels as well as his recently released sort-of-adaptation of The Invisible Man called the Nobody, is doing just that makes him definitely a talent to watch.
Plus, Vertigo is selling the first issue for only a dollar!
The story is very different and refreshing; as is want this days it's been described as 'Bambi meets the Road Warrior.' Lemire's writing is very natural and manages to cram in lots of information without making it seem to wordy or really boring you with too much backstory. If anything, he offers just the right amount to keep you hooked. The art is amazing, this is my first time seeing his art in colour (and having Jose Villarrubia, one of the best colourists working in comics today doesn't hurt too much.)
I guess I'm going to end this with a bit of a plea. Working at a comic book store, people constantly come in looking for something different, looking for the next big thing – if you want to get in on the groundfloor for something really special – I'd recommend taking a chance with Sweet Tooth.
Pete DeCourcy is the Editor in Chief of ComicBookDaily.com and the manager of Blue Beetle Comics in Barrie, Ontario.