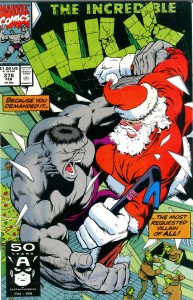 The Cover: I can't get enough of covers of superheroes fighting Santa Claus. There's such a timeless feeling to seeing the gray Hulk engage in a fistfight with jolly old Saint Nick. What's fantastic is that the tagline of this issue is "the most requested villain of all!" But what really makes this cover is the 9.99 price tag on the crowbar in Santa's hand! What sort of store sells crowbars for such a cheap price? And why put the crowbars on sale? Do they really believe that someone wants to open up a present on Christmas day and find a crowbar inside? If anything, they're going to use it to beat on the person who gave them it as a gift.
The Story: Our tale of Saint Nick ass-kicking begins with Rick Jones breaking up a fight between in a hospital by telling them a heart-warming Christmas story. His story begins with the Rhino in a back alley on Christmas eve drinking some booze lamenting his lonely existence. You know you got problems when even the homeless bums don't want to be near you. The Rhino decides to bum around and beg for change at which point he notices all the Salvation Army Santa Clauses receiving changes, so he knocks one out and steals his costume. Damn, Rhino, someone's getting a sack full of coal this year. While doing his Santa thing by threatening people into giving, he gets roped into a department Santa gig by a mall manager. At first he enjoys doing the gig, until some brats begin harassing him and he snaps so he begins telling the kids off, encouraging them to misbehave and acting like Santa Claus if he had a crack addiction and needed a fix. I am not quite sure why I used that analogy but I sure like it. While this is all happening, Rick Jones, Bruce Banner and Clay Quartermain notice the Rhino causing a commotion. Bruce runs into the washroom pushing some poor guy who probably really needed to take a dump out of his way.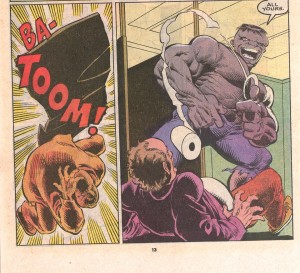 Gray Hulk bursts out of the stall in one of the dirtiest scenes if you have a dirty mind and makes his way to Santa Rhino as he picks up a kid and tosses him like a football. Santa Rhino and G.Hulk begin to duke it out with Gray Hulk not being as strong is Green Hulk so he needs to resort to kicking Santa in the junk. T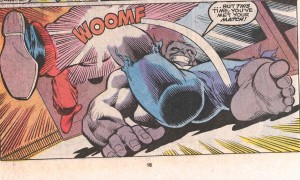 he brawl continues throughout the mall as they fight their way through cookie stores and bowling alleys throwing out great Peter David one-liners as they go. You know it's a great issue when Gray Hulk makes a line about "plenty of balls" So as they're fighting and Gray Hulk gets the upper hand, Clay Quartermain jumps in only to get taken hostage by Rhino when Hulk leaps back into the scene dressed in the Rhino's Santa Hat and beard which fell off during the fight. That's right, the Hulk stopped to dress himself as Santa Claus while his friend was being choked to death by the Rhino. The Rhino retaliates by impaling the Hulk in his groin and instead of finishing his foe, takes a page out of the Hulk's book to steal away his Santa hat and beard to put back on himself. Why? Beats me, maybe it's the secret wish of Rhino and the Hulk to win a fight dressed as Santa Claus?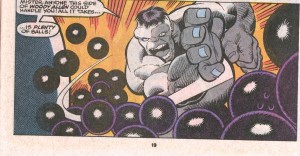 As the Rhino prepares to finish off the Hulk, a cute innocent girl named Ginny aka Virginia steps in to ask why Santa is hurting his helper. As this concentrated ball of cuteness unleashes her powers of innocence on the two, they are unable to resist and their hearts are melted as they stop the fight and resume acting as the store Santa and helper. Our tale ends with the Hulk about to get freaky with a female elf…wait what? Yup, that lady looks like she wants some Hulk loving.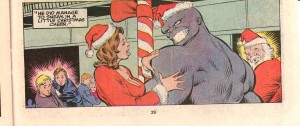 The Cover: 8/10: Santa and Hulk action? Oh yeah, we got a hulking heapful of it, get it? Hulking? AHAAH I kill myself. Anyways, the only reason this didn't get a perfect score was the lack of  crowbar making it's way into the scenes and it wasn't the original Santa Claus fighting, it was the Rhino as him.