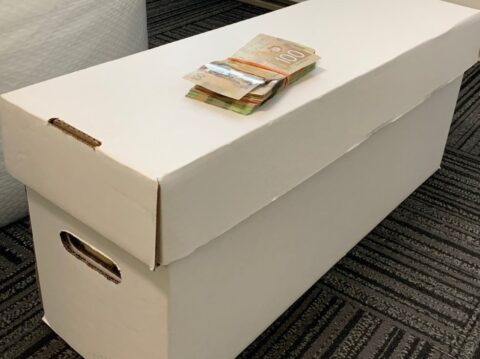 These long weekends are tough if you want to get some work done. The missus, being a teacher, had four days off which meant we went away on a little two-day trip. Luckily I knew a comic guy up that way who had some nice stuff I wanted, he likes the warehouse selection so I stuffed a long box full of goodies and took a pic and sent it to him, I even added a nice pile of cash on top, notice how I have the stack of the brown "Honey Bees" visible on top. Worked like a charm, we did our business in no time leaving me and my gal plenty of time to walk along the beach.
We got back just in time for Easter which my sister celebrates (mine falls on May 2nd this year). Of course, I ate way too much and lost most of the day wanting to fall asleep. Needless to say, neither the shop nor the warehouse had any access to my sought-after skills these past four days, I hope the warehouse fridge is keeping my salami and cheese stash crisp and fresh, nobody likes dried-out cheese… or shrivelled salami.
I've also now fallen behind on my mining for comics to be pressed then graded. My presser likes to press for me about 200 books a month meaning I need to get him about 400 books since he says my hit rate is about 50%. I like to consider myself a good grader, as most guys do I'm sure, but I don't have the time to open each book and inspect closely so if they look sharp in the bag they go into the potential press box.
Part of the formula that is needed for the warehouse project to be successful is a steady and consistent stream of books heading down and then coming back from CGC. We're a good two weeks behind this next shipment so I really have to get back on track. These days the supply of good books means everything, the market is hot, we need books to list!!!
This week I should have a batch coming back from CGC, I see on the invoice that there is a box now in Grading/Quality Control. There were some nice high-grade books in that batch including Creatures on the Loose #30 and the two Tiger Shark issues Sub-Mariner #5 and #6. I sure do hope the graders were in good spirits last week…
Last night we had more great results on our eBay auctions. I won't go into how hot Marvels are, all I'll say is that Marvels are really really hot. I would like to highlight a gem we sold for one of our consignors. Blue Bolt #108 features a stunning Sci-Fi cover by the great L. B. Cole. Our copy was a CGC 4.0 with White pages and it sold for $677.69. Look at this gorgeous thing. Last week I mentioned that DCs from the 1960s might be good buys at the moment, while everyone is running to the Marvels. I also think this is a good opportunity to grab some unique and rare esoteric stuff from the 1940s and 1950s. Be careful with the Sci-Fi and the Horror stuff though, most of these books don't have the anchor of a known and loved character in them so zero in on strong covers and on big-name artists. Our copy of Blue Bolt #108 delivers on both counts, Advantage Buyer.