This past Saturday, May 7th, was Free Comic Book Day (FCBD). I hope you all were able to visit your local comic book shop to support them. The event is always held on the first Saturday in May and for over a decade has coincided with the big Marvel first weekend in May movie release. Marvel usually saves their big gun for this time slot so we end up with this nice symbiotic relationship where FCBD and the Marvel movie work together to promote comic book culture. We used to set up at the big Cineplex on the Friday nights handing out hundreds of fliers inviting moviegoers to come to our FCBD the next day. Everything worked like a charm, the movies always seemed to be hits and our FCBD event seemed to grow every year.
The pandemic had us cancel FCBD in 2020 and then again in 2021 so we were a bit unsure of how to approach this year's event. We decided to plan for a three-quarter event; this was three months ago when we had to decide on order quantities for the books we would give away. We thought that not everybody would be ready for a full-on event with 1200 people funnelling through a small store over the course of eight hours. It turned out we got what we wished for: I'd say we saw 800 people this past Saturday and everyone had a great time. It was nice to see the shop busy with regulars and new customers. In hindsight, we obviously made a mistake in not promoting and investing into the event more heavily: it was obvious that the crowd was ready for more, but we just weren't. Next year we're going hard!
More sad news from the comic world this week with the passing of George Perez. I remember the hype and buzz when the New Teen Titans came out in 1980: #1 was instantly collectible. Back in 1980 the X-Men seemed to be the whole comic book industry, all the other Marvel titles were so stale but DC's New Teen Titans was fresh with Perez's art and winning new fans fast. I remember it being a legitimate challenger to the X-Men for a time. George left the Teen Titans and went on to make more comic book history with the DC's Crisis on Infinite Earths. RIP George Perez.
I was leafing through Batman #227 for next week's eBay auction and was hoping to use the cover or perhaps a page I liked for this week's post when I happened upon this page. Here we have DC boasting about how their artists won big awards at a Comic Art Convention. Holy Crap can you imagine the art that would have been available to buy at that convention! I don't want to even think about it. Note the bottom where DC raves about how well-received their new superstar artist was received at the show.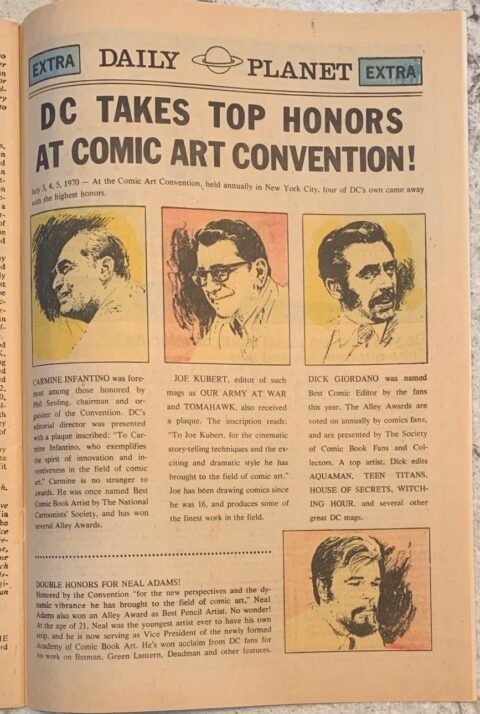 Last week I got fixated on hanging Supermen so it shouldn't surprise anybody that this week I was mesmerized by raining Superboys. I'm not sure why but these covers just work.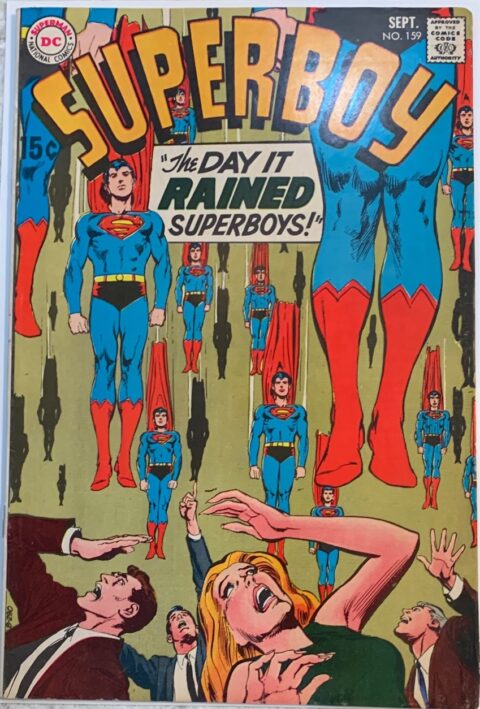 I'm going to ask the help of Bud Plant on this next pic. This ad is from Star Wars #3 in 1977. Bud, can you tell us anything about Pacific Comics in the mid-1970s? Looks like they were from San Diego and the ad says they got Frazetta to do the art on their catalogue? How long did these guys last? I remember Mile High from a couple of years later but I don't remember these guys.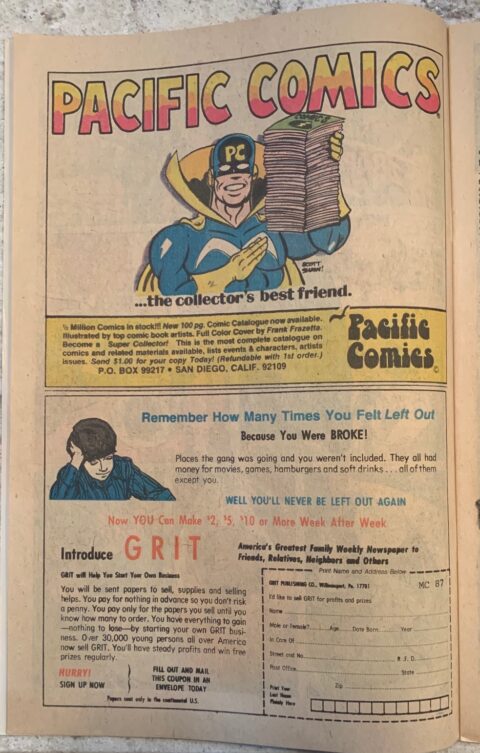 Our internationalcollectiblesexchange weekly eBay auction closed last night and I noticed that the quality raw books had strong sales. I thought this small batch of early Silver Age Batman books did particularly well selling for $212.50 USD; then again, who would not want that Batman/Batwoman Wedding cover with a distraught Robin.