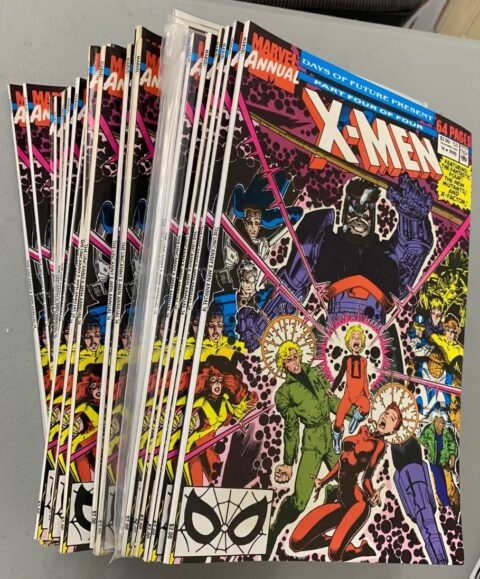 That's a nice-looking stack of X-Men Annual #14s but alas it is the rejects pile. Luckily I was able to section 9 candidates for a CGC 9.8. Most of these had silly little storage damage but that's the way it goes when comics are stored for years unbagged. I have noticed that a simple bag protects them so much versus unbagged. I'll still consider this little pile a solid victory as X-Men Annual #14 does great in the shop and should be well received on the Big B Comics Vintage page.
Unfortunately, it was not all good news at the warehouse this week, it seems we had a little flood that affected about 20 long boxes. I have not had the time or energy to dig those boxes out to see what's in them but I sure hope the comics in those boxes were bagged! At first, I thought it was snow melting near the back door but it turns out the water was coming through the partition wall dividing me and my neighbor. I'll talk to him today to see what they were doing to cause the water to run under the wall and into my unit and of course, I'll politely ask them not to do what they were doing anymore.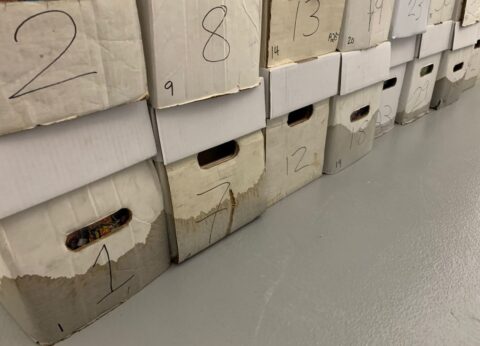 I'll update everybody next week on what got damaged, hopefully, nothing too important and again, I hope the books are in bags.
Has anybody lost some really important books to a flood in the basement? Bad memories I'm sure you'd like to forget, we, on the other hand, would love for you to relive those moments by sharing them with us. I mentioned on a past Comic Culture podcast that I had flood damage in my Niagara Falls store but thankfully they were just overstock comics with little value. Those were the ones where a guy found them at the dump and brought them back to us to try to sell (not knowing we were the ones that threw them away).
Back Issue Comic Book Market Update
The back issue market continues to defy the logic of a veteran comic guy like myself. I read that a CGC 9.8 Giant-Size X-Men #1 got $40,000. I could name other sales but all these prices may seem low by next week's post.
Actually, I had a guy say something to me that I've never heard before, he's a reseller and needs to sell stuff to pay the bills and keep his enterprise going. He said something along the lines of "I know that every time I sell something I lose money". That struck me as funny but with the market the way it is he is right. You almost have to buy something first before you sell the thing you were going to sell to be able to buy the thing that you now have to buy in advance! Confusing? The new market sure is.