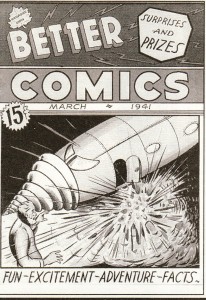 Better Comics #1, Maple Leaf Comics, March 1941
Over the years I've owned many "Canadian Whites" the cool Canadian black and white comic books of the early to mid 1940s. These books are hard to find especially in higher grades. As a reseller I've never had to sit on one of these comics very long; I honestly can't remember one that lasted more than 2 comic conventions. These comics have a high level of demand from a very robust and serious collector base.
I will give you a very quick history.
By the late 1930s the comic book medium exploded in popularity thanks in large part to the introduction of Superman (co-created by Canadian Joe Shuster) in Action Comics #1 (June/38). An explosion of superheroes quickly followed including fan favorites Batman and Captain Marvel.
Canadians loved these comics just as much as their American neighbors and the US publishers did brisk business exporting their comics into Canada.
Then along came World War II. Historically we must remember that Canada entered the war right away while America officially remained on the sideline for over 2 years. Canada's war economy was eating up precious resources and was importing heavily from the United States. This growing deficit forced then Prime Minister McKenzie King to pass the War Exchange Conservation Act at the end of 1940, restricting the importation of nonessential goods such as comic books.
Things were looking bleak in early 1941 for Canadian comic book fans.
Business is a lot about opportunity though and four Canadian publishers saw a good opportunity in meeting this demand for comic books.
Maple Leaf Publishing in Vancouver and Anglo-American, Hillborough Studios, and Bell Features (called Commercial Signs of Canada at start up) all in Toronto jumped into the game.
In three short years Canadian publishers were producing about 20 titles on regular schedules. Titles like Dime Comics, Three Aces, Grand Slam Comics, Lucky Comics, Active Comics, Commando Comics, Rocket Comics, Big Bang and Three Aces all sold well. I was unable to find total circulation figures but I did pick up snippets of information here and there, one citing Bell Features publishing over 100 000 comics a week at this time.  I can assume monthly publishing totals for the Canadian comic industry at its height was in and around one million copies. If anyone has accurate circulation figures please link in the comments field below.
It was the repealing of the aforementioned War Exchange Conservation Act in 1946 that spelled the end of the Canadian Whites. Canadian publishers could not compete with the resumed importation of the color American Comics.
My undervalued pick this week features the very 1st of these "Canadian Whites" Better Comics #1. Anglo-American's Robin Hood comics was published  contemporaneously in March 1941, but was essentially a tabloid sized collection of reprints of syndicated newspaper strips from Ted McCall, hence making Better Comics # 1 the first homegrown Canadian comic book containing original homegrown material.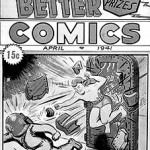 Better Comics # 1 also boasts Canada's first superhero featuring the Iron Man by former Disney artist Vernon Miller. Iron Man is the sea dwelling (lived in a bubble city) sole survivor of a South Pacific civilization destroyed by an earthquake. Iron Man is really two heroes in one. He is made of Iron and thus we can count him as a possible template for the current Tony Stark Iron Man (iron suit only) but he's also like Marvel's Sub-Mariner, surfacing from the sea to help fight Nazis, pirates and other bad guys.
This comic is incredibly rare.
There are other must have Canadian Whites including Dime Comics #1 (1st Johnny Canuck, Feb. 1942) and Triumph-Adventure Comics #1 (1st Nelvana, Aug. 1941). I was only able to find one of these 3 key Canadian Whites on the CGC census, a CGC 5.0 copy of Dime Comics #1.
The collecting community that has arisen for these comics is strong and any Canadian White in higher grade is a book you can ask your price on. There are strong pockets of collectors in Canada the US and in the UK.
The more common lower grade copies of Canadian Whites trade for about $100 while I have sold nicer condition Maple Leaf issues for as much as $400. Unfortunately I've never owned a Dime Comics #1, Triumph Comics #1 or Better Comics #1 so I don't know what these things regularly sell for. I do know that demand is so high you could most likely ask for double what you paid for it and just wait for someone to cave to the tremendous pressure that the bragging rights to owning one of these would bring.
Canada's future looks bright and so does the collectibility of Canadian Whites. If by some chance you happen upon a Better Comics #1 or any of these great comics pick them up as quickly as you can. Hurry man!
The 41st edition of the Overstreet Price Guide does not list Canadian Whites!
Strengths that make this comic book a good long-term investment are:
Considered the 1st Canadian White
Launches Canada's comic book industry
Introduces Canada's 1st superhero the Iron Man
A very niche but very dedicated group of collectors
Please provide any sales figures you may have for any of the above mentioned books.
Special thanks to Canadian Whites collector and expert Steven Lipson for his insights. If you have any questions about Canadian Whites please feel free to contact Steven at [email protected].