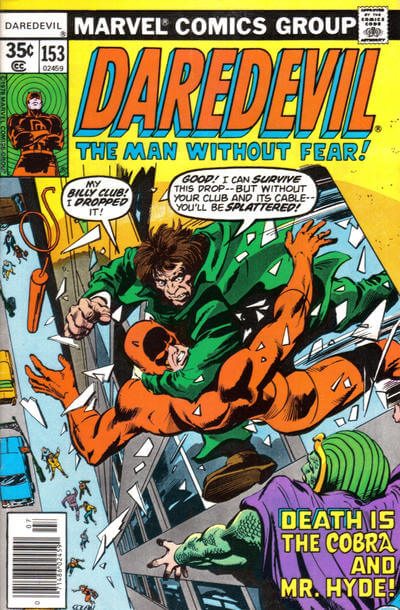 Daredevil #153, Marvel Comics, July 1978.
The last Undervalued Spotlight I posted was in December 2019, had I been smart I would have kept it going another 3 years, my picks would have been legendary, I would have been called a guru, a savant, a maniac because EVERYTHING went up in that time period. Spider, of the CBD comments section fame, has been bugging me to restart the column for a while now. I guess he couldn't wait any longer because he wrote one for us. I'm grateful for the contribution and will now stap aside and hand things over to Spider.
A comic may be judged on many aspects; cover appeal, first appearance, character development, writer or artist's run – the one I'm discussing today started a Comic Book Daily (CBD) friendship! Mel Taylor and I first started chatting in the comments section about this particular book; when a man of his experience and wisdom and a man of my charm and rugged handsomeness agree on something then you know you're in for a treat! Ben Urich is a fantastic Marvel character, a gruff and tough reporter at The Daily Bugle, he's too good just to remain in Daredevil and has moved out into the greater Marvel universe; he has appeared in the Amazing Spider-Man numerous times but is so popular that he can support his own issues within a series and even his own title (The Pulse), he's even joined in with Spider-Woman to battle crime!
The first appearance of Ben is a proper one; with speech, the character fully named, he basically bookends the giant fight that spans the entire book…this isn't some shadowy vague half appearance (James Rhodes I'm looking at you!). It's difficult to believe that it's going to be another year (6 issues on a by-monthly release schedule) before we see him again, this time under the pencils of Frank Miller in issue #159, but each future appearance is a strong one, further building the case for this book. Behind the cover we have the great Gene Colan doing pencils, you're getting a lot of experience and talent for your dollars with this purchase. Artistic highlights include a full panel shot of Hyde pushing Daredevil through a skyscraper window; stunning perspective work.
Mel and I have also set you up for future reading success; you can continue feeding your new Urich-obsession by moving into the Frank Miller run where the character really develops, early on the character displays a strong moral code; wielding the intelligence to deduce that Matt Murdock is Daredevil but also the moral fortitude to keep the secret because he knows that DD makes the world a better place. He plays a prominent part in the highly acclaimed Born Again arc by David Mazzucchelli and once again throughout the highly recommended Vol.2 of the Daredevil series, a particularly strong arc are issues 16-19 which are anchored with Ben's latest investigative story, all beautifully illustrated by David Mack, a delight to read! I simply can't think of a first appearance for a character with such history, caliber of appearances and popularity that can be purchased for so little. So, what do you think, a strong mixture of undervalued value and with great reading credentials? A decent first pick from the rookie straight off the bench? Let me know below!
Values: CGC 9.4 copies can be bought for less than $50, nice grade raw copies can be snagged on eBay for $5.
Strengths that make this comic book a good long term investment are:
Ben Urich – strong secondary character. Name me another character with so many appearances that you can purchase their first for the price of a Horton's double-double and maple creme?
Very strong appearances in the sought after Miller/Janson and Miller/Mazzucchelli run.
One of the last issues that Gene Colan pencils on DD – Silver age style, bronze age price!
Go ahead and fall in love with the character – further great reading in the copper and modern eras are available.
Spider is NOT an Overstreet Advisor and hasn't even been nominated for a Shuster Award, let alone won it. He doesn't own a comic shop, and hasn't even stepped foot in Hamilton, Ontario, Canada.