Rawhide Kid #17, Atlas Comics, August 1960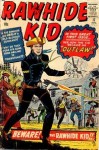 Rawhide Kid had a ho-hum 16 issue run between March 1955 and September 1957. Atlas Comics (which would turn into Marvel in a short couple of years) decided to reboot the title in August 1960. Stan Lee wrote the origin of the Rawhide Kid and entrusted non other than Jack Kirby to draw it. Stan Lee has stated that it was with the Rawhide Kid that he and Kirby first tinkered with the thought of an ongoing character that they would develop more and more with each passing issue. Their ultimate goal was to create a successful series based on one character. We must remember that at the time Atlas Comics in general and Lee/Kirby in particular were producing mostly anthology type one off stories with ever changing characters. What Stan Lee has admitted then is that the Lee/Kirby combination that within a couple of short years gave us the Fantastic Four, the Hulk and the birth of the whole Marvel revolution really started with this issue and this character. Lee's casting the Rawhide Kid as an orphaned misunderstood teen was also prophetic. Udoubtedly the success of the Rawhide Kid influenced some of his other soon to come creations like Peter Parker.  
The Overstreet Price Guide shows $261/$436/$610 as the 8.0/9.0/9.2 price splits.
Strengths that make this comic book a good long term investment are:
– True launch of Marvel's most popular Western character.
– Almost impossible to find in higher grades. A CGC 7.0 and 8.0 are the 2 highest graded copies on the CGC census.
– Important origin issue penned by Stan Lee, penciled by Jack Kirby and inked by Dick Ayers.
– Title had longevity and the character is still recognized by most collectors today.
– An important milestone in the Lee/Kirby team that surely helped lead to their later successes.
– A great property which I can see Marvel reintroducing in the near future.
 Walter Durajlija is an Overstreet Advisor and Shuster Award winner. He owns Big B Comics in Hamilton, Ontario, Canada