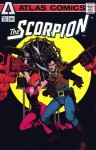 Marvel Comics founder Martin Goodman sold Marvel to Cadence Industries in the late 60s and eventually left the company completely in 1972. Within 2 years he created Seaboard Periodicals. The plan was to go head to head with Marvel and DC with his new Atlas imprint. Larry Lieber, who just happened to be Stan Lee's brother, was actually editor in chief for a time at Atlas. The story is that Goodman wanted to punish Marvel for reneging on a promise to keep Martin's son employed at Marvel.
Atlas was revolutionary in its treatment of artists and creative talent. The company offered higher rates for art and stories and allowed artists to keep possession of their artwork. Very progressive stuff for the day and it attracted such legends as Neal Adams, Russ Heath, Wally Wood, Steve Ditko and Howard Chaykin. Remember that at the time, comics were a work for hire industry (just look at the lawsuit the Kirby heirs have launched against Marvel). There were no rights to characters created and no rights to your own artwork (rights musicians enjoyed at the time). The Atlas experiment helped right all these wrongs and it is an important, if not successful, chapter in the history of comic books.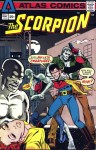 The company launched 3 titles in January 1975, Grim Ghost, Iron Jaw and Phoenix. A total of 23 titles were eventually launched. No title lasted more than 4 issues and a total of 61 comics complete the Atlas set. Phoenix #4, October 1975 was the last comic published.
The Scorpion #1, published in February 1975 featured a great bondage cover and interior art and story by Howard Chaykin. The Scorpion #2, May 1975, featured Chaykin pencils with a stellar inking team of Mike Kaluta, Bernie Wrightson, Walt Simonson and Ed Davis.
It is these two books that I will choose for this week's Undervalued Spotlight. In fact it was difficult to choose because the whole Atlas line of comics is undervalued and we believe that one day this will change. Out of all the titles though, Scorpion probably had the best shot of success.
The Overstreet Price Guide shows $8/$11/$14 as the splits at the 8.0/9.0/9.2 grades.
Strengths that make this comic book a good long term investment are:
– The Atlas/Seaboard story is the stuff of legend. Audacity, betrayal, revenge, the Atlas story has it all
– The Atlas experiment helped break the work for hire model of the comic industry at the time
– Years later Chaykin would develop the Scorpion into Dominic Fortune for Marvel
– Scorpion #1 & 2 boast Howard Chaykin, Ed Davis, Walt Simonson, Bernie Wrightson, Mike Kaluta
– These are Bronze Age comics – a very collectible era
– Low current cost leaves lots of room for growth
Walter Durajlija is an Overstreet Advisor and Shuster Award winner. He owns Big B Comics in Hamilton, Ontario, Canada