Strange Adventures #180, DC Comics, September 1965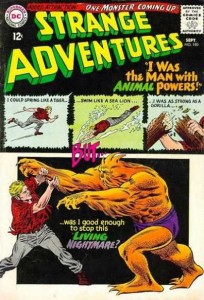 The 1960s really did belong to Marvel Comics. Marvel dominates the collecting scene for that decade and rightfully so. If you look hard enough you will find some quality DC creations coming out of this era. One of these unsung heroes is Animal Man. Introduced in September 1965 Animal Man gave new life to an old and tired DC title. In fact Strange Adventures would again strike gold 2 short years later with Deadman.
The Overstreet Price Guide shows $114/$212/$310 as the splits at the 8.0/9.0/9.2 grades.
Strengths that make this comic book a good long term investment are:
– First appearance of an important DC character
– Animal Man's stature has risen recently thanks to quality stories from the likes of Grant Morrison
– 1965 date puts it squarely in the Silver Age – a very collected age
– Considered a minor DC key of the Silver Age
– Only 7 have been graded by CGC as 9.2 or better
– Guide prices are bargains in the higher grades and are sure to go up
Walter Durajlija is an Overstreet Advisor and Shuster Award winner. He owns Big B Comics in Hamilton, Ontario, Canada