Tales to Astonish #91, Marvel Comics, May 1967, Battle Cover.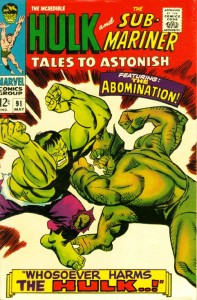 The Abomination made his first appearance in Tales to Astonish #90 but since the even number issues of this title had Sub-Mariner covers we had to wait until issue #91 for the first great Abomination vs Hulk cover. It really is a striking Gil Kane cover and belongs among the great Marvel battle cover issues that include Journey into Mystery #112 (Hulk vs Thor), Fantastic Four #112 (Hulk vs Thing) and Silver Surfer #4 (Thor vs Silver Surfer).
The 2009 Overstreet price guide value for this comic is $39/$62/$85 in the 8.0/9.0/9.2 grades. This issue is priced the same as a whole range of surrounding issues that include #71-#81, #83-#91 and #94-#99. If you're lucky enough to find a dealer with a good Tales to Astonish collection from this era odds are issue #91 will be one of the books missing.
A CGC graded copy at 9.2 fetched $122 recently while a CGC graded 9.4 sold for what I think is a cheap $176.
  Strengths that make this comic a good long term investment are;
 – Hulk covers are traditionally stronger than Sub-Mariner covers in this title
 – The great battle covers attracts Marvel battle cover collectors (there's lots of them out there)
 – Hulk is one of the top 5 characters at Marvel
 – Abomination has become one of the Hulk's main villains and will continue to be so
 – Relatively scarce in the higher grades (35 copies at 9.4 or better) 
Walter Durajlija is an Overstreet Advisor and Shuster Award winner. He owns Big B Comics in Hamilton, Ontario.