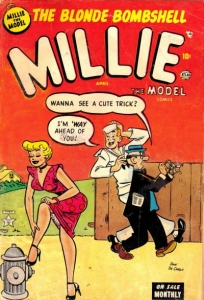 Millie the Model #41, Marvel Comics, April 1953
I had a nice long talk with a very knowledgeable comic book friend of mine the other day on the crazy prices comic books have been getting lately. We touched on all the big keys quickly being priced out of reach and we also discussed how other collecting strains have been performing very well. We talked about how well Good Girl Art (GGA) books are doing, touching on Matt Baker covers, Eisner's Spirit and Archie, I think at this point we also came to the conclusion that GGA fans probably don't get out much!
Did you know an Archie #49 was selling for more 5 years ago than it is now? Did you also know Archie Comics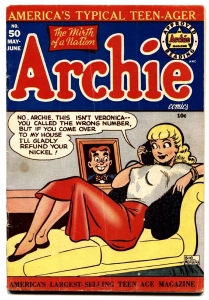 #50 is selling for something like 10 times more now than it did about 8 years ago? You can thank the sudden importance give the book's Betty headlights cover by Bob Montana for all that.
I'd never put the likes of Bob Montana or Dan DeCarlo as classic GGA artists but that is exactly what they have become as this search for undiscovered GGA covers intensifies.
This week I'd like to pick my candidate as a future GGA must have, Millie the Model #41, as this week's Undervalued Spotlight.
Yeah I know there are none graded at the moment but who grades Millies that aren't #1 or #2 (or maybe Annual #1 as well). Millie the Model is seen as a niche title with a small but loyal collecting base. Artists like Dan DeCarlo and Stan Goldberg, both of whom would also put their stamp on the Archie series, did long stints on the Millie title.
Millie the Model #41 was written by Stan Lee and while it's nice having Stan the Man on the roster of any collectible comic the future record prices generated by this comic will be mostly thanks to the fantastic Dan DeCarlo cover. Most Millie covers are pretty lame but this one really pops out at you, it's actually quite risque, politically incorrect and filled with innuendo.
Risque, politically incorrect and innuendo are magic words for GGA comic collectors and like I said above Millie the Model #41 delivers. The trick of course is finding a copy but I'm telling you they are out there. I remember a dealer at the Montreal con a couple of years ago had a long box full of old Millie's, the box looked like it hadn't been looked through in years.
The 47th Overstreet (brand new) price break for this book is $100/$220/$340 in the 8.0/9.0/9.2 grade splits.
Reasons to buy this comic book as an investment.
Great GGA cover
Innuendo cover
Tough era of Marvel/Atlas in any grade