Pep Comics #22, MLJ Magazines, December 1941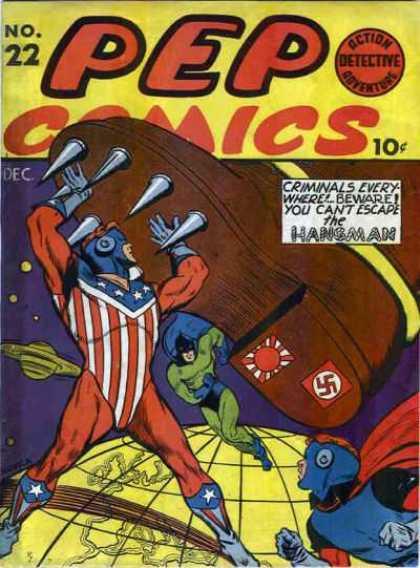 In Pep Comics #22 (December 1941), MLJ Magazines quietly published an untitled six-page story that featured a girl-crazy teen named Archibald Andrews. Pep Comics was a superhero title featuring the likes of the Shield and the Hangman so the Archie story insert seemed puzzling but somehow Archie struck a cord. Soon Archie was the main feature in Pep, Jackpot and his own Archie Comics. Pep Comics #22 also introduced the world to Betty Cooper and Jughead. Since then the Archie franchise may have sold more comic books than any other comic book character, ever.
When we look at the Overstreet price guide value of Pep Comics #22 we see a $6,300/$16,000/$27,000/$38,000 split for the 6.0/8.0/9.0/9.2 grades. When you consider that this comic book influenced dozens of imitators and spawned a whole new sub-genre I'd say it's not getting the respect it deserves. Eventually time will judge this era of comics as the beginning of much more than just the super hero genre it most famously spawned. Archie's importance and value is being suppressed by the over inflated importance and value of secondary superheroes. Surely the first appearance of Archie should be worth more than say the 10th appearance of Superman (Action Comics #10 – 3rd time Sup is on the cover) or even comics like Wonder Woman #1, Green Lantern #1 and Captain Marvel Adventures #1, all title launches of characters that appeared numerous times before in other titles (Sensation, All-American and Whiz respectively). All these aforementioned comic books are valued higher that Pep Comics #22 in the Overstreet price guide.
This comic book is not seen on today's market. A CGC graded 2.0 did sell 3 years ago for $8,500, over 4 times Overstreet guide value. The comic book is simply not available. These are only 8 graded copies on the CGC census 3 of which are restored. The highest graded copy in an unrestored 7.5.
Strengths that make this a good long term investment are;
– 1st appearance of a character that should rank in importance right up there with Superman, Batman and Spider-Man
– This comic is impossible to find so if you do find it and it's anywhere near guide – BUY IT!
– History will give this book it's due as we slowly reassess the importance of non hero characters
– You know there's an Archie movie in someone's pipeline somewhere!
Walter Durajlija is an Overstreet Advisor and Shuster Award winner. He owns Big B Comics in Hamilton, Ontario.