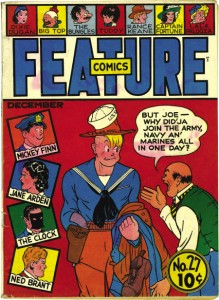 Feature Comics #27, Quality Comics, December 1939
The Doll Man was introduced in a 4 page story called "Meet the Doll Man" in Quality Comics' Feature Comics #27 (12/39). In the comic research Chemist Darrell Dane invents a formula that shrinks him down to 6 inches (though he still keeps his full size strength). The Doll Man is one of the very first superheroes. He predates the likes of Green Lantern (7/40), Captain America (3/41), Flash (1/40), Wonder Woman (12/41) and Captain Marvel (2/40).
Not only was he one of the first out of the blocks he was also one of the longest lasting heroes of the Golden Age! Doll Man's run on Feature comics lasted 112 issues and his later self titled comic lasted another 47 issues finally running out of steam in 1953. As a character he outlasted Captain America, Green Lantern, Human Torch, the Sub-Mariner and the Flash. Captain Marvel only outlasted him by 1 month. This guy must have been good!
How could the Doll Man not be good? The Overstreet Price Guide lists Will Eisner and Lou Fine as the creative team. Eisner and Fine are true legends in the industry and do lend a lot of weight to the Doll Man character.
The Doll Man also has the important distinction of being the first superhero with shrinking powers. He may have even inspired DC's Atom character (1st appearance All American Comics #19, Oct. 1940).
When Quality Comics folded in 1956 Doll Man joined the DC stable of characters. It puzzles me why DC did not use the Doll Man character right away. In 1956 DC was just beginning to re-launch many of their cancelled Golden Age heroes (initially and most famously with the Flash in Showcase #4, Sept. 1956).  DC's Golden Age Atom last appeared in All Star Comics #57 (Feb. 1951) and the Silver Age Atom did not appear until Showcase #34 (Sept. 1961). The superhero comeback was obviously working; I thought DC could have found a title for Doll Man in the late 1950s. Doll Man was eventually called up in the early 1970s as part of the Freedom Fighters team (the team was made up of a bunch of Quality Comics alumni including the Phantom Lady and Uncle Sam).
DC introduced Lester Colt as the New Doll Man in a 2006 Crisis Aftermath mini-series.  It's clear that DC is having some problems with bringing the character fully into their DCU continuity. The good news is that they keep trying.
The 40th edition of the Overstreet Price Guide shows $3628/$6414/$9200 as the splits at the 8.0/9.0/9.2 grades.
Strengths that make this comic book a good long term investment are:
Spawns such characters as Doll Girl and Elmo the Wonder Dog!
The book is listed as scarce so if you have one in your hands do not let it go
Names like Will Eisner, Lou Fine and Reed Crandall figure prominently
The first of the shrinking superheroes
A 1930s superhero (not that many of them)