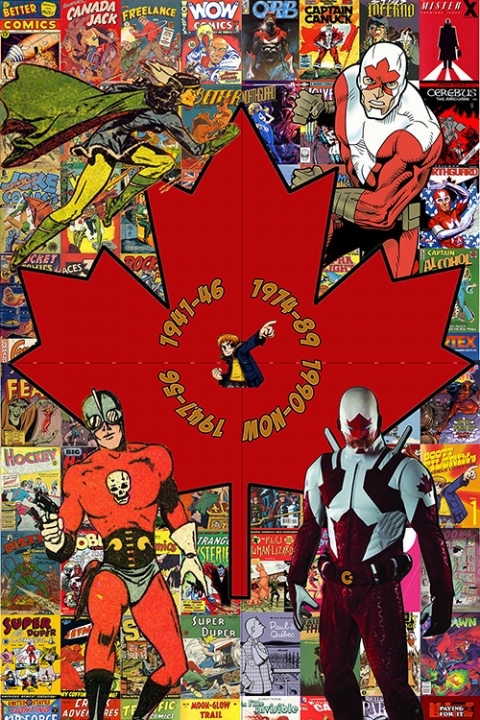 Just like my last post, I am still mulling over ways to acknowledge and publicize 2016 as the 75th anniversary of the Canadian comic book (Better Comics V. 1 N. 1). I hope that my book on Bell Features artists (which should be out at the end of November) will partly contribute to this and I'll use this column to share any developments. Roy Thomas has also accepted an article I wrote on The Canadian Whites to commemorate the 75th for publication in Alter Ego this year.
Personally, I think that a great way to commemorate this special year is to put together a set of collectors cards that feature the heroic characters from those Canadian war-time comics. Perhaps the set should be expanded to feature all the main Canadian comic heroes up to the present.
There was a small set of 9 cards that came out in support of The Guardians of the North exhibition in 1992. Here are some pictures of them: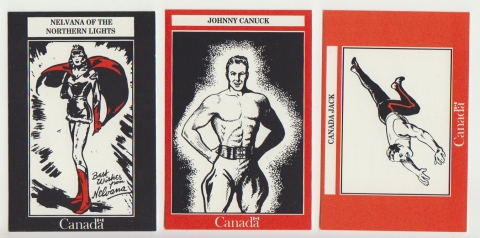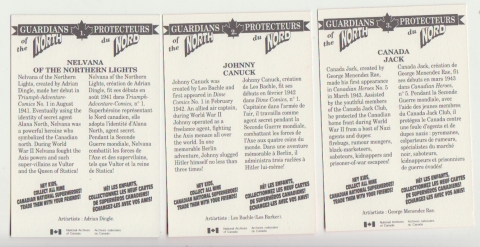 Backs for cards 1-3.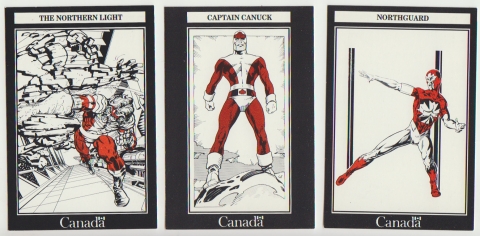 Cards 4-6 in the set.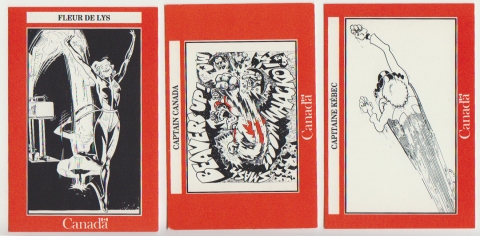 Cards 7-9 in the set
I asked John Bell about how this set came about and he explained it as follows:
---
In 1991, I was approached by the managers responsible for the National Archives' Canadian Museum of Caricature (devoted primarily to political cartooning) and asked to curate a show exploring the history of Canadian comics. Initially, the exhibition was conceived as a showcase for the Archives' holdings of Bell Features material; however, I proposed a different approach that would draw not only on the Archives' holdings, but my own collection and material still in the hands of various artists and publishers. This way, the resulting exhibition, Guardians of the North: The National Superhero in Canadian Comic-Book Art, served as an effective acquisition vehicle for the Archives, as many of the people who loaned material for the show later chose to donate.
Once I had completed my basic curatorial work, I was asked to provide some suggestions regarding promotional materials. For a catalogue, I recommended that we adopt a comic-book format.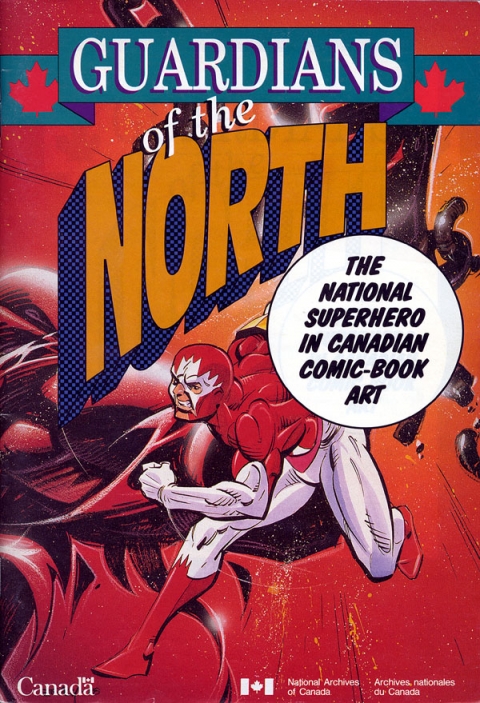 Given my interest in Canadian trading cards, I also suggested that we issue a set of superhero cards. I chose the artwork for the cards and provided the text, which was fun to prepare. (How many trading-card collectors get the chance to actually create a set?) If I remember correctly, the cards were distributed in small bundles of three over the course of the show's run. (Eventually, the Canadian Sportscard Collector ran an interview with me about the set.)
The week Guardians of the North opened, an Ottawa-based journalist who contributed to both the International Herald Tribune and the Washington Post gave the show a very positive review (he was dumbfounded to learn that there were Canadian superheroes). This piece also ran in several other US papers and quickly prompted a major response in the Canadian media (Peter Gzowski, Arthur Black, Mike Duffy, Toronto Star, etc.).
Here is a picture taken on the opening day of the Exhibition in 1992.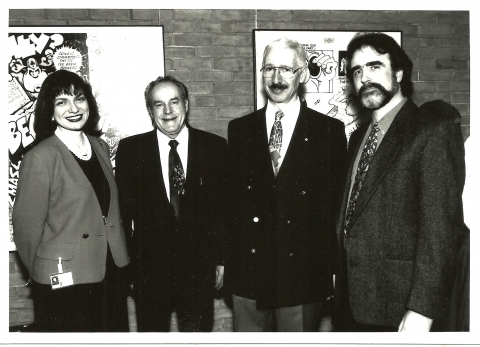 A year or so after the show ended, I was approached by Canada Post and asked to assist with their popular Canadian Superheroes stamp issue, which appeared in 1995. I helped with the selection of superheroes and provided the text for the accompanying booklet.
---
This, then, was a small and limited set of cards that now seems hard to find. Should be able to put out a new set (I was thinking of a basic set that showed a colour picture of the hero with a reference to that hero's creator/chief artist, powers, and first appearance—all this in English and French) what should the scope of it be. Should we include those Canadian heroes from the 70s to the present? How many cards should be in the set? Should we include special limited insert cards (eg., photos of the artists, signed cards by the artists for more modern heroes, an enhanced card—3D, embossed, laser?). How many cards to a pack? And so on…. It could be a grand and memorable set. What do you think?
The other thing I've talked about as a project for the 75th is some sort of a price guide for the Canadian war-time books. This would have to be a slim, almost pamphlet type of soft cover with just 750-800 entries (so don't think of the thick Bible that Overstreet is). But apart from the values in a checklist type format what should that booklet contain. Should it have articles and a cover gallery and what should the price point be ($9.99?) that is, what do you think that collectors would be prepared to shell out for it? How often should this guide be updated (every year, every couple of years)?
Until we get more data and sales, I think that the grading spectrum listed in the guide start at 1.0 and progress up though 2.0, 4.0, 6.0, and 8.0 leaving out higher grades because they need to be established with higher grade books coming on the market. Most WECA books found and available are at or below VG (4.0) so that what should be considered a high-grade book for these comics would be 7.0 and up. Also most WECA books are Gerber 7 and up, especially in higher grades. But the bottom line would be that this first price guide should be seen as a starting point that can be refined over the years. We certainly do need a starting point because we've had nothing really up till now. At the very least, the price guide would serve as a checklist for all known WECA comics and this too has never been attempted before.
I hope that the little group of us working on this can pull it off with all the pioneering spirit it involves.
The other thing that could certainly be done is to make this year's Canadian cons aware of the fact that this is the 75th anniversary of the Canadian comic book so that they can perhaps promote it in some small way by having a logo on their posters and special edition comics that indicates this special year. They could also consider having a panel or two on the topic itself within their event schedule.
Of all these things I can report that Chapterhouse is going to bring my book on Bell Features artists with original art page reproductions out at the end of November in an edition of 500 hardbound copies with a price point of $120-140. A kickstarter for the book is planned in September and a limited set of collector cards is planned to be one of the Kickstarter premiums. A cheaper, softcover version will follow a year or so later. Chapterhouse is also going to employ a "Canadian Comics 75 Years" logo on all their publications issued this year much as the 40 years of Captain Canuck logo was used last year.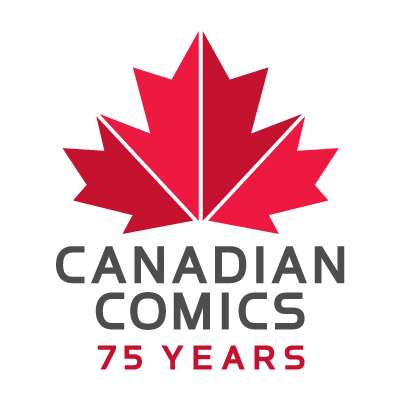 Chapterhouse is also going to publish a WECA comics price-guide this year and myself, Walter Durajlija, Jim Finlay, and Tony Andrews are working on this right now.
Finally, I want to draw your attention to a new online Magazine from the Library and Archives of Canada called: Signatures
If you go through the sections for this first issue you'll find an informative article on the Bell Features collection put together by the person in charge of it, Meaghan Scanlon.
Speaking of the Library and Archives of Canada, I must also draw your attention to a  podcast  on their site from the end of last May which involves a discussion with Hope Nicholson and Rachel Richey about their recent reprint work.
So what small efforts could we make not to let this significant year go by unnoticed and unrecognized? Look at what the Canadian mint did with the 75th anniversary of Superman, whose slender connection to Canada is his birth and childhood in Toronto. Admittedly, Superman's footprint in the comic world is a little larger in the comic book world and the world as a whole, but these 700-800 comic books that Canada put out during the Second World War are truly and 100% our own. Shouldn't we have a little bit of a party for them and those we have put out since?