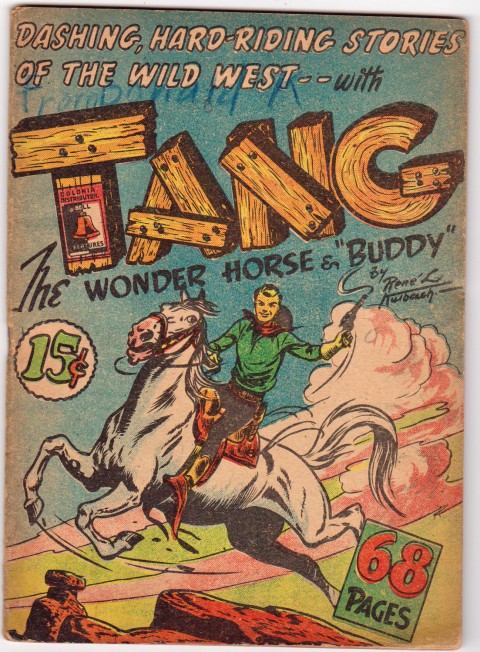 Interest in Canadian war-time comics, popularly known as the "Canadian Whites" is growing and with a scarce and limited supply of them available, their values continue to escalate. The other day I picked up one of my WECA books and fondly recalled that it was the very first "Canadian White" I acquired.
This happened back around 1969-70 before Hirsh and Loubert's The Great Canadian Comic Books (Peter Martin Associates, Toronto, 1971), before Harry Kremer's little bit of comic heaven on Queen St. in Kitchener and just around the time of the break-up of The Beatles and Bob Overstreet's first issue of The Price Guide.
I responded to a tiny classified ad at the back of The Hamilton Spectator: a few older comics that someone wanted to sell. I gave the person a call and a woman answered and said they were still available so I hopped on my bike and rode out from around Eastwood Park to just past the old Centre Mall (when it was a people's place and not the big box place it is now) to Strathearne Ave. with its line of hydro towers extending off and up toward the escarpment (which we in Hamilton call "The Mountain" and where the "better half" of the city lived – but without Limeridge Mall and much real development Limeridge Rd. at all).
The house was a smallish war-time place and I dropped my bike on the lawn, trotted up the steps of the wooden verandah and pulled open the aluminum screen door. After a couple of sharp knocks a middle aged woman appeared at the door and I told her I was the one who called about the comics. She stepped back in and returned with a half-dozen books, all in fairly nice shape. I quickly looked through them and I recognized a Real Fact No. 5 with Batman and Robin on the cover. The others were more non-descript to me but they all looked like they were late forties books, so I offered her 2 bucks apiece and for $12, I got the bunch. I got the Real Fact 5 slabbed at the start of the century, back when CGC was in New Jersey and it came back a 7.0.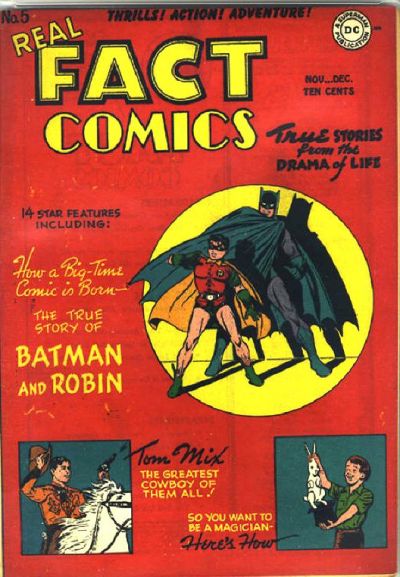 One book in the pack was a little different from the others. It had black-and-white interiors and the cover wasn't glossy but a thin, rough card type stock with almost pastel-like colours that were dullish for a comic book. It was western themed Canadian book called "Tang – The Wonder Horse" and to all intents and purposes, I dismissed it as a colouring book that was never filled in. I later found out that this was one of the 1945 Bell compendiums (along with the Speed Savage and iconic Nelvana compendiums also put out at the same time, among others) and this, it turns out, was my first "Canadian White." It was about 40 years later that I started looking into them again.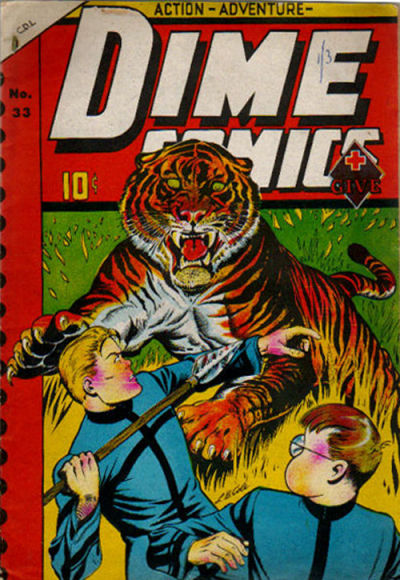 The only other book I remember from that group was also a Canadian book but it was a later Bell (1949-50) reprint of 4Most Comics Vol. 8 No. 3 with the old "Dime Comics" masthead replacing the original American title and numbered "33." I can't recall what the other three books were.
A simple story of my first "Canadian White," not a key or a very expensive book, but it rests firmly and fondly in my mind. I'd love to hear some others.