What became Bell Features Publications Limited of Canada started in the summer of 1941 with the first issue of a title called Wow Comics, cover-dated September 1941. This was an ambitious project that turned out to be Canada's first full-colour comic book.
The company that put it out was actually a sign painting company called Commercial Signs of Canada, founded a dozen years earlier by two brothers: Cyril and Eugene Bell. Both had been born in Peterborough to Norman and Bessie Bell. Cyril (Cy) on October 2, 1904, and Eugene (Gene) in December of 1908. By the time Cy was six, the family relocated to Toronto where Cy's father worked as an Electrician for the local Streets and Railways company.
Commercial Signs of Canada produced hand-crafted signage for billboards, storefronts, banners, and street cars. This skill was a valued one in the days before computer image production.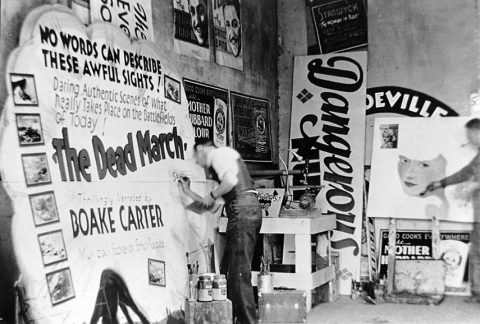 Alexander Ross' article "A fond portrait of those wild wartime comics" in the September 19, 1964 issue of Maclean's Magazine, tells us that "Bell happened to have a small colour press in his sign-painting shop which was used occasionally for printing billboards and banners for used-car lots." But, what were the catalysts that persuaded Cy Bell to print that first full-colour Canadian comic book? Of course, the banning of American comics from entering Canada in late 1940 was one, but the other was Edmund T. Legault.
There are slightly conflicting statements as to how Edmund Legault, the eventual creator/artist for that first issue of Wow Comics came into the picture. In that same 1964 Maclean's article, Ross (p. 29) goes on to state the following:
When one of his sign-painters, Edmund Legault, revealed that his secret ambition was to become a newspaper cartoonist, and that in his spare time he'd created a comic strip called Dart Daring and drawn several months of episodes, Bell decided to put his little press to work and ran off fifty-two thousand copies of a Dart Daring comic book [presumably Wow Comics No. 1].
John Bell gives a slightly different account which appears in both his Canuck Comics (Matrix 1986 p. 25) and Invaders from the North (Dundurn 2006 p. 48):
In 1939, [the Bells] had been approached by a French Canadian artist, Edmund Legault, who hoped to find a publisher for his comic art. The Bells were forced to turn Legault away. However, late in 1940, when Cy Bell learned of the impending ban on U.S. comics, he re-established contact with Legault, acquired capital from businessman John Ezrin, and began work on an adventure comic book, Wow Comics.
So in the Ross version, Legault was an employee of Commercial Signs of Canada who approached Cy Bell with the idea and ready-made artwork for a comic book and in the John Bell version Legault was never a Commercial Signs employee but was re-contacted after having unsuccessfully approached Cy Bell with the idea for a comic book. Whichever version is closer to what really happened, the creative force behind Wow Comics No. 1 was Edmund Legault. He drew and wrote 95% of it.
Bell printed 52,000 copies of Wow Comics No. 1 and it sold out within a week and at least one more set of 50,000 copies was printed. One curious thing was that Fawcett had already published at least 2 issues of its own title called Wow Comics south of the border featuring a hero called Mr. Scarlet. Cy Bell was either unaware of it or was unconcerned of any legal repercussions.
Fawcett's Wow 1

Fawcett's Wow 2
Wow Comics No. 1 was 64 pages of full-colour comic and was the second Canadian 15¢ comic. It had this price point on the first eight issues (the first eight issues of Maple Leaf's Better Comics were also 15¢). Its cover showed a blond buccaneer skewering a pirate through the chest while a number of bloodied blades threatened from around the edges of the book. The image is untypical for Canadian wartime comics, which consciously avoided any lurid quality such as the depiction of blood–that was reserved for the pulps. Cy Bell probably put the breaks on this sort of thing after the second issue, which also had a cover that showed a blood-dripping cutlass dispatching a native warrior. The name of that blond hero was Dartner Daring, an 18th century master swordsman. There's also a banner along the bottom edge of the cover displaying the book's second feature, a science fiction adventure involving a character called Whiz Wallace.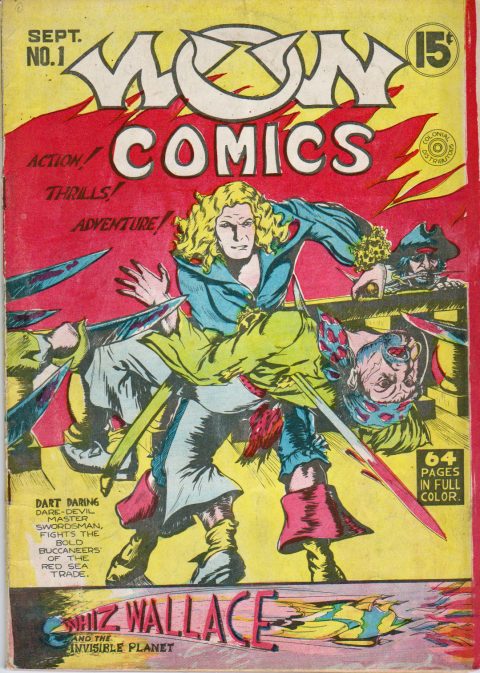 Dart begins his story shipwrecked on a South Pacific island where he finds a treasure, encounters, fights, and makes friends with a gorilla, and then rescues young Lorraine Knight from cannibals.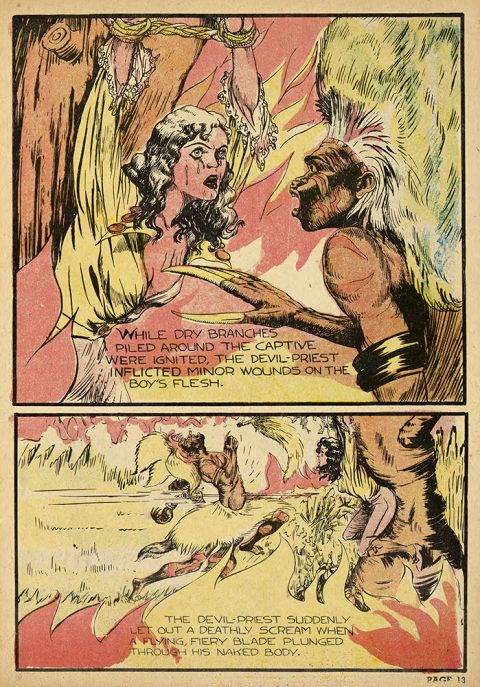 By issue three, after encountering pirates and leaving the island, we find out that Dart is the son of the pirate Captain Kidd and that Lorraine, his love interest, is also the daughter of a pirate. With issue four, Dart and Lorraine have made it to the west coast of Canada. In the following issues, the pair encounter various characters and fight natives and wildlife while making their way east to the Rocky Mountains. By the first black-and-white issue, No. 9, they cross the Rockies and make it to the plains of Canada. In issue No. 10 Dart and Lorraine are back in the Pacific fighting pirates.
Though that first issue was in full-colour, the second had only blue and orange and subsequent issues up to No. 8 were only two-colour, before going black-and-white for the rest of the run.
Dart Daring's run continues for seven more issues and in them, he gets a sort of sidekick in the form of a young boy named Franklin. He also meets up with Blackbeard. His last appearance is in Wow 17 where he, Lorraine, and Franklin are in Central America. In the last panel in that issue, we are left hanging with young Franklin bound and being carried off for human sacrifice by Aztec-like natives.
Legault's other feature in that first issue of Wow Comics was about an American air racer, Whiz Wallace, whisked away to a strange 'invisible' planet called Vezara à la Flash Gordon. The story begins with Whiz participating in an air race on the outskirts of New York City. He encounters a scaly humanoid behemoth lumbering across the countryside who plucks Whiz's plane right out of the sky. The monster also reaches down to the highway and scoops up a car with a girl in it, then returns carrying both victims to a rocket ship. Whiz wakes up in the rocket ship unable to move, realizing that it is shooting into space. He also sees the girl who had been in the car being prepared for sacrifice by a large, human-like alien. Suffice it to say that Whiz rescues the girl, named Elaine Kenyon, who then serves as his Dale Arden when they land on Vezara at the end of the story.
Splash from Wow 1.

Elaine Kenyon in peril.
Whiz battles creature after creature on this 'invisible' planet called Vezara for the next nine issues, until Wow Comics No. 10, when he returns to earth and becomes a test pilot for the American War Department. He is given the commission of Flight Commander in the U.S. Air Force and begins another series of adventures across Africa and the Middle East all with Elaine Kenyon in tow.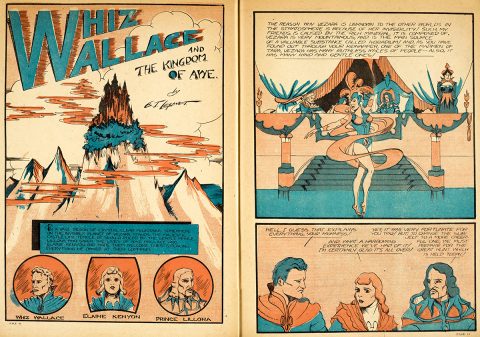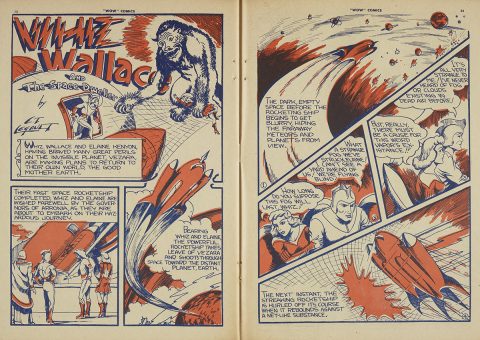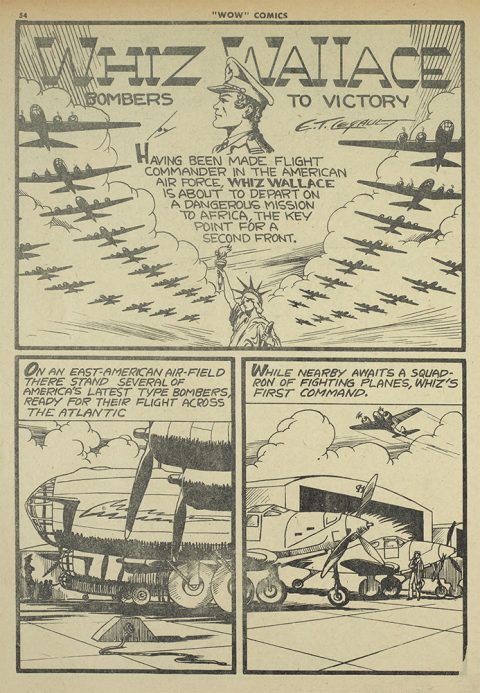 Just like with Dart Daring, Whiz Wallace's strip ends in Wow Comics No. 17, most likely because Edmund Legault was drafted. But, the difference with Whiz is that this strip was taken over by another cartoonist, Harry Thomson, for issues No. 16 and 17. Thomson, who also did the Ace Bradley strip in Commando Comics from issue No. 7 on, proceeds to take it on an abrupt right-angle turn.
When Thomson received the assignment, Whiz and Elaine had been captured by Nazis and onboard a Nazi Bomber flying out of North Africa for Germany. His solution for this cliff-hanger was to have the bomber run out of gas and the Nazis decide to land in Cairo and give themselves up to get out of the rest of the war.  But, after receiving a name-check in the recap in the splash panel, Elaine is forgotten about or jettisoned, and Thomson sends Whiz off to Bombay in pursuit of a villain called the Spymaster. There he meets a new female interest in reporter Jo Barry and, with the help of an Indian dancing girl, the two manage to foil the Japanese Spymaster's scheme. With that, the Whiz Wallace saga comes to an end.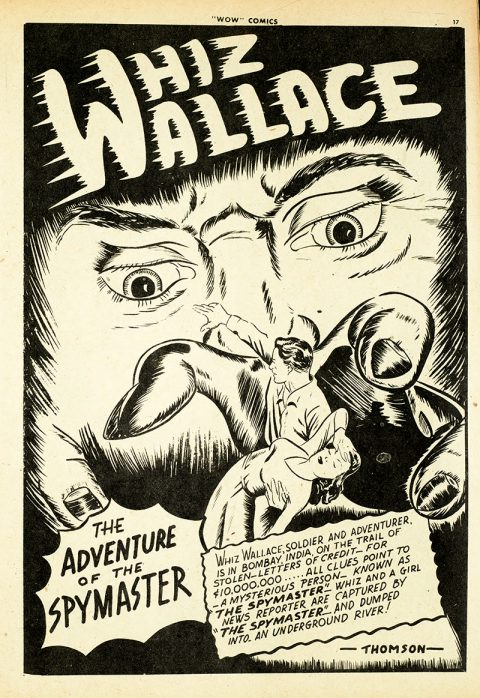 Edmund Legault got Bell Features' Wow Comics off the ground and just about single-handedly supplied its content for the first half-dozen issues, including doing those first six covers. His two series, "Dart Daring" and "Whiz Wallace," continued for just over half the title's run of 30 issues. He was certainly a central figure in the early history of Canadian war time comics. It mustn't be forgotten that he also created the characters of Dixon of the Mounted and Thunderfist in Active Comics, drawing the first two appearances of the former while Murray Karn was the artist for the latter.

The odd thing is that he is one of those figures in Canadian wartime comics that we know almost nothing about apart from the product on the page to which he leant his signature. In Joke Comics No. 23, which probably came out a month or two after VE Day, Cy Bell and Adrian Dingle decided to acknowledge some of the Bell Features employees who had served in the military and were now returning home. Among the statements on that two-page spread is the following concerning Legault: "Gun crew member of the Royal Canadian Artillery. Ed's strips were "Dart Daring" and Whiz Wallace." Trained at Valleyfield, Quebec." However, that's the extent of the biographic information we have on the artist. Let's hope that this can be remedied in the near future.
To finish up, I'd like to mention some of the highlights of the 30-issue run of Wow Comics after those Legault-filled first six issues.
It was with Wow No. 7 that the Bell logo first appeared on the covers of the title. This was because Cy Bell had changed the name of the comic book publishing company from Commercial Signs of Canada to Bell Features and Publishing Company Limited in the spring of 1942. It was also with Wow No. 7 that the title started to diversify with the introduction of a new feature about a 'Jungle Jim' type Amazonian adventurer called Jeff Waring, created, written, and drawn by Murray Karn. Though Jeff Waring is the central figure on the cover of this book—the first Wow Comics cover not drawn by Edmund Legault but by John Hilkert, the creator of The Wing in Joke Comics—Waring doesn't actually appear in that first story other than in the splash panel of the story.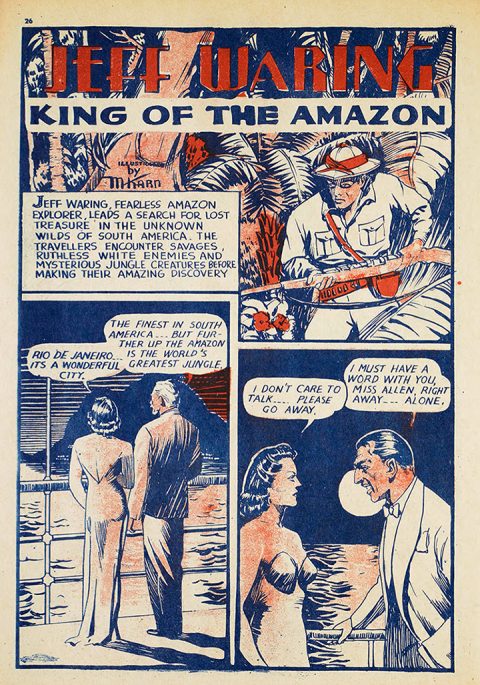 Wow Comics No. 8 begins a series of seven covers done by Edmond Good and introduces young Jack Tremblay's Canadian fighter pilot hero, Crash Carson. In issue 15 Adrian Dingle creates tuxedoed crime fighter The Penguin and with issue 16 begins doing the rest of the covers in the series except for the last which was done by Fred Kelly. That issue, Wow Comics No. 16, also has the first appearances of René Kulbach's western hero, The Phantom Rider, and Dingle's secret agent, Guy Powers.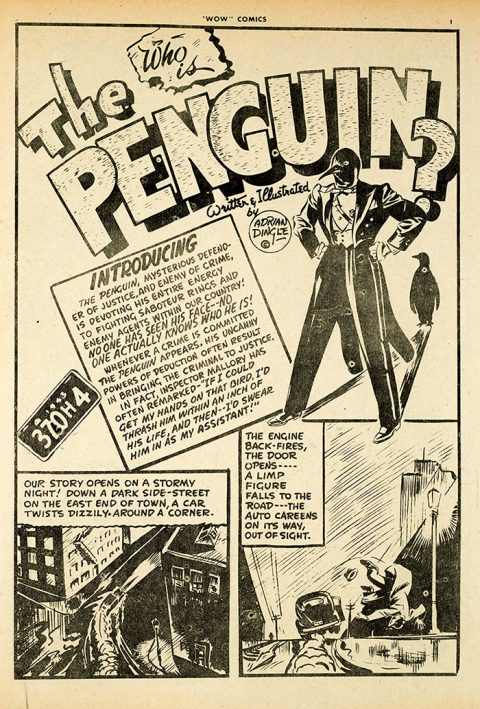 Wow Comics No. 17 is significant because it contains the first professional work of a sixteen-year-old Jerry Lazare as he takes over the Jeff Waring strip after Murray Karn leaves to serve in the Medical Corps. The irony of this is that Jerry very first published page (that Jeff Waring splash page in Wow Comics No. 17) is actually a swipe of Lou Fine's cover from Fight Comics No. 3 which had come out (cover date of March 1940) before the ban on American comics. Jerry must have had one stashed in the back of his closet somewhere, but it did kickstart a long career in illustration and eventually fine art.
Lou Fine's 1940 cover.

Jerry Lazare's splash from Wow 17.
As an aside, I did have my copy of Wow Comics No. 17 signed by Gerald Lazare and had that signature authenticated by CGC on-site at Fan Expo 2018. However, after having it sent in for grading and getting the result below back, it does make one think what sort of comic knowledge CGC expects of its graders or perhaps that the American-centric nature of comic collecting has just overwhelmed the hobby.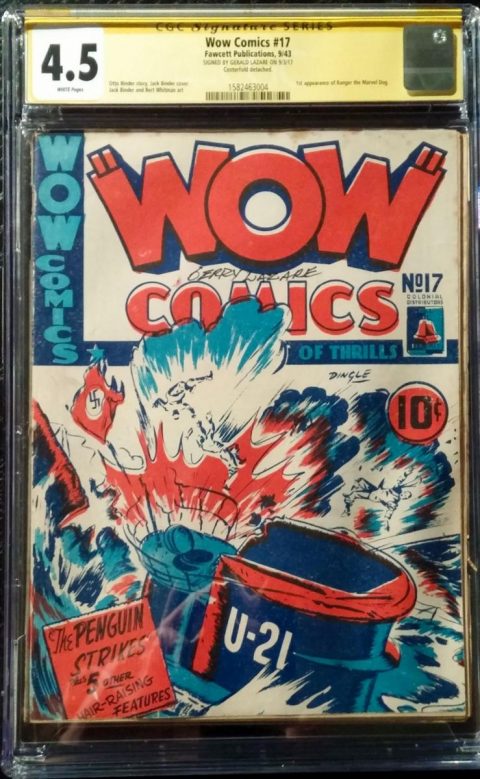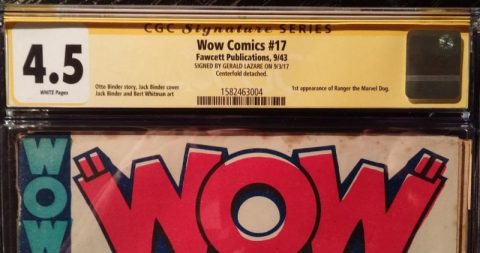 The rest of the Wow Comics run produces first appearances of Aram Alexanian's Blackhawk swipe, The Black Falcon, in issue 19, Tedd Steele's cartoony Woody and the Wolf in issue 23, Fred Kelly's race track wonder, Clip Curtis, and Jerry Lazare's The Dreamer both in issue 24.
Finally, one of the most significant first appearances in Canadian wartime comics is that of Fred Kelly's Doc Stearne in Wow Comics No. 26–the issue with the iconic Dingle image of The Dreamer running straight out of the cover at you (which I used for the cover of my book on Bell Features artists: Heroes of the Home Front). Doctor Jim Stearne is a Canadian physician, and in the final four issues of Wow Comics, encounters a handful of strange civilizations and a Japanese expeditionary force in an extinct volcano and its environs in the northern reaches of Canada.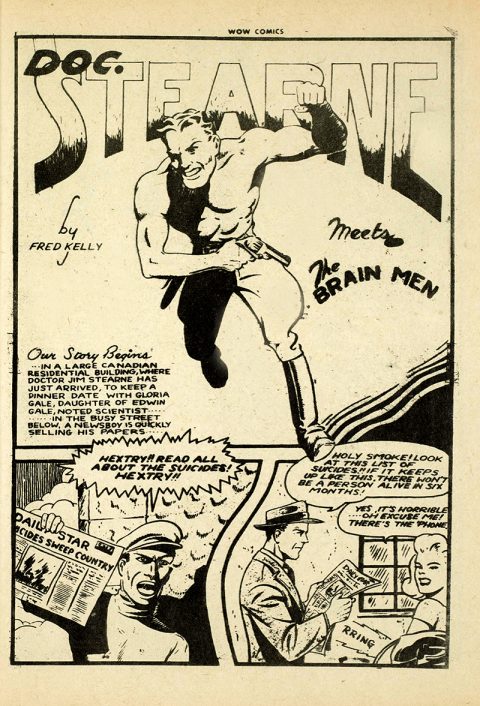 However, Doc Stearne's story doesn't end with Wow Comics No. 30, the last issue of the title. It continues in Commando Comics No. 21 and concludes in the last issue of Triumph Comics (No. 31) where Jim Stearne develops a powerful interest in the occult and decides to tackle demons and monsters from around the world in his new identity of Mr. Monster! This 'title jumping' probably tells us that Wow Comics was one of the first Bell titles to fold in late 1945 to early 1946 and that Triumph Comics was one of the last. Fred Kelly's Mr. Monster, of course, had one more story to tell and this appeared in the May 1947 issue of Super Duper Comics No. 3 (the one Michael T. Gilbert found a coverless copy of in the mid-eighties and decided to revive Mr. Monster).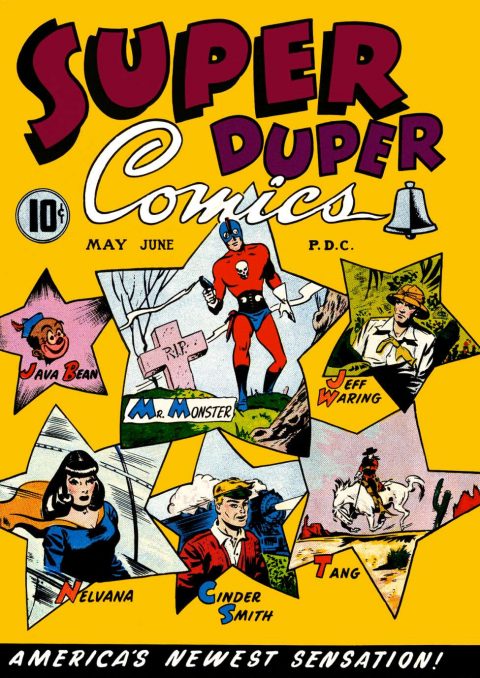 Bell Features' legacy and the Wow Comics legacy, started by Edmund Legault in the summer of 1941 with Dart Daring and Whiz Wallace, actually concludes with Fred Kelly's full-colour Mr. Monster story in Super-Duper Comics No. 3. This is after a short side-trip to a full-colour Slam-Bang Comics No. 7 (May 1946)  where  Murray Karn's final Jeff Waring story and Adrian Dingle's transformation of The Penguin into The Blue Raven appear. This is an unquestionably important legacy for Canadian comics and Edmund T. Legault was its central founding member.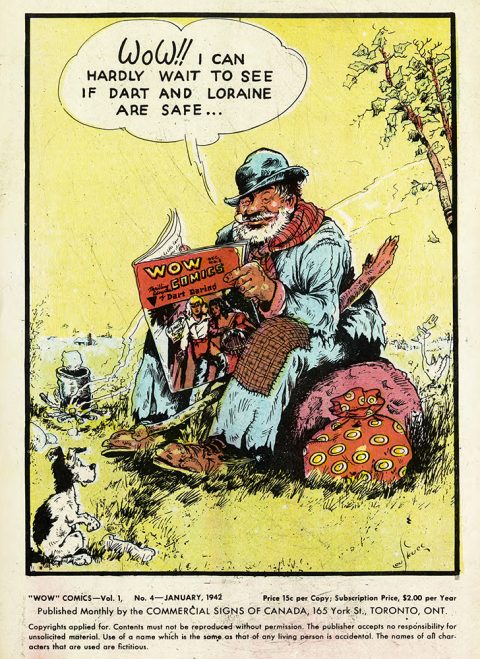 NEWS
Good friend and literate epicentre of comic knowledge and appreciation in the Tri-City area, Mel Taylor, is sharing some of his Canadian wartime comic collection with the community at Alfonso Espinos' Studio Comix shop in the Frederick Street Mall in Kitchener this Saturday, July 20, from 10 am to 1 pm. Get there if you can. Mel has the best copy of the rare, but much sought-after, copy of the Nelvana of the Northern Lights compendium that I have seen. See it, and a few other WECA comics, first hand and chat with Mel about his comic book experiences and writing. Also, get him to sign some of his work.