Ahh, there's very little I look forward to every year other than Anime North, one of the largest fan run anime convention in North America. I've been going to Anime North ever since it started and have never missed it! Having attended it every time, you learn a few things about how to best maneuver around the convention. Unlike Brent who set up in the lobby of one of the hotels, I wandered around the convention, partaking in my usual routine: checking out the dealers room, taking pictures of interesting cosplay and of course…standing in lines!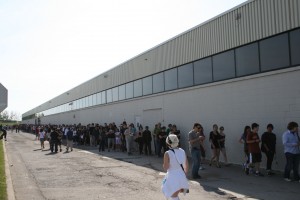 Being one of the largest conventions out there for anime means…well, you're a really big convention. Anime North is spread across the Toronto Congress Centre as well as two other hotels nearby. This also means that the line-up to register for the convention is massive! So pre-registering ahead of time is always highly recommended though once again you can expect a huge line for that as well.
The dealers room at Anime North is always very impressive. It's an extremely large dealers area filled to the brim with dealers from all over. Big Toronto area stores like Beguiling, One Million and the Snail are always there as well as specialty stores. Japanese food specific vendors set up and do very well. While the dealers room is normally very busy, this years was so packed that you didn't really need to walk, you could just lean back and let the mass of people carry you away like some kind of escalator. There were deals galore; with most dealers offering discounts off of U.S cover price or things like buy 4 get 1 free. One Million Comix and Beguiling both had 5 dollar manga sales, though One Million had a far better selection, having thrown in a mix of new releases and recent oversized omnibuses into the discount table for those with keen eyes.
Attendees were spending as if their money was going to explode like Inspector Gadget's notes. People were walking away with stacks of manga and piles of dvd boxsets. On average, anime dvds are much more expensive than regular television. New release dvds go for at least $30, and that's usually just for 3-5 episodes of a 26 episode series! So when you see someone walking away with the latest dvds by the handful, you know they've dropped a big chunk of change. Another great thing about seeing someone walk away with a stack of manga is that you are pretty much guaranteed that someone is going to read the damn thing. Unlike comic books, manga is almost never collected for investment purposes since there essentially is no such thing. Manga goes through endless printings and there is very little demand to own first-printings of them so prices tend to rarely fluctuate. The only time it does happen is with series that are either out of print or discontinued. An example being the Sailor Moon manga, while able to fetch a decent amount of money on Ebay, will likely never reach the price levels of high grade collectible comics. Man, I seem to be deviating away from the convention…but this does give me another great idea for anarticle.
Basically, if it's anime-related you can probably find it in the dealer's room at Anime North. They even had a dealer that specializes in bringing in authentic Japanese hentai doujin from Japan to sell primarily at anime conventions across the continent. Hentai is essentially cartoon erotica, while doujinshi refers to a fan-made/professional comic with characters from an established property like Sailor Moon or Dragonball. To think of it in western comic terms; imagine if someone drew a high quality extremely explicit comic of Spider-Man having sex with Black Cat and you have the idea.
Aside from the dealers room, one of the biggest draws for me is seeing all the cosplay. While I could tire my feet out running all around the convention, the smart man's method of seeing all these visual delights is through the masquerade. The masquerade is Anime North's big show, which always takes place on the Saturday night at the DoubleTree Hotel across from the Toronto Congress Centre. Cosplayers sign up for the masquerade which is basically a costume judging competition and show off their costumes with skits or performances to win prizes and accolades. A little bit of fantastic news regarding the masquerade is that the International Costumes Guild has now recognized the Anime North show as an international level competition which is some pretty exciting stuff. Another tip from a long time attendee of Anime North is that right after you get your wristband for attendance, immediately scoot over to the DoubleTree Hotel and line up to get the masquerade wristbands. Every year the Masquerade is jam packed and people are turned away by the hundreds, so wristbands are given priority to enter.
Anime North is one of the best conventions in North America if you just want to have fun and experience a sub-culture that has spawned countless memes to annoy and fascinate you.
David Diep is a News Editor for ComicBookDaily, an Assistant Manager at Big B Comics in Hamilton, Ontario and once managed to swim upwards the falls at Niagara Falls and says anyone who says otherwise is a filthy liar.