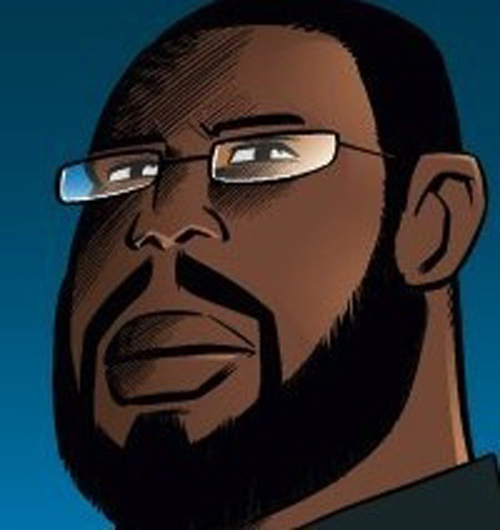 Unfortunately Dwayne McDuffie has passed on.
And I really do mean that in the truest sense of the words.
A lot for modern readers might only know Dwayne's work on the Fantastic Four or his rather cut short JLA run but there are more things to his career than those and I hope this little piece will maybe bring a few people to some great work that the man did and should be appreciated.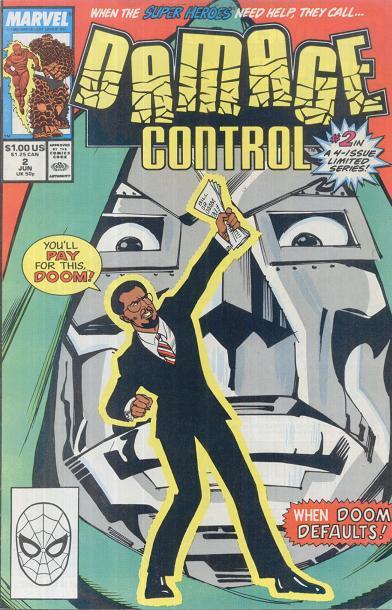 Damage Control.
Damage Control was a book way a head of its time. It came from Marvel and was essentially about the guys who clean up the mess after the big super powered blow out. Remember when Galactus fell? Well, somebody had to clean that up. Originally pitched as a "sitcom" in the Marvel universe, McDuffie co-created and wrote this series that despite its humor always fit in perfectly. You may remember the characters appearing in Civil War but it's their various mini-series that truly show how good the book was. My one beef with Damage Control? For whatever reason, it's been out of print for years. This book would make a great addition to Marvel's Premier Classic hardcover line but yet nothing. I had hoped that Civil War might bring it back to print but no such luck. As ghoulish as it might be in some ways, maybe Dwayne's passing can help bring this back to print. There's a lot of things this book could teach up and coming writers about humor and the superhero world.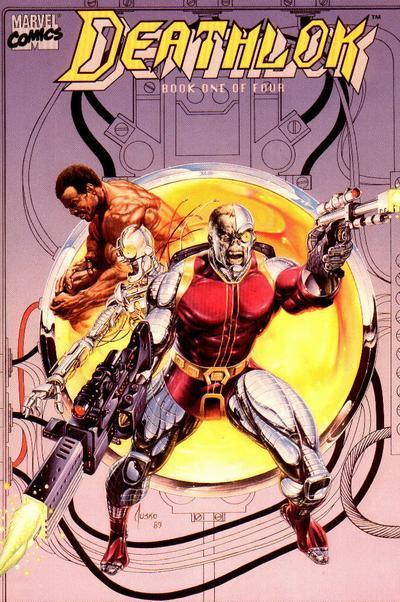 Deathlok
The entire reason I got into this character was McDuffie's mini-series. It was just the right amount of sci-fi, superheros and the human condition to bring me in. Shunning the future story idea the original Deathlok was created with for something more contemporary was an interesting idea and honestly, both then and now, you could see this actually happening. A pacifist trapped within the war machine isn't that unusual with wars the many of us don't agree with. A mini-series that should be re-printed.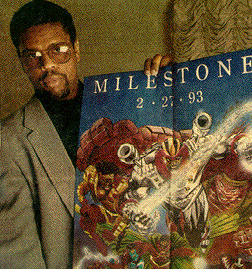 Milestone
Now while I'll be the first to admit that I didn't really dig much from this line and I have been known to make fun of it from time to time, I do admire the point of Milestone and what it accomplished. The truth of the matter is that there was not a lot of minority super heroes. You had a few before Milestone Media but honestly even the good ones (Black Panther being the best example) were a little stereo typical. Okay in some cases (Luke Cage, I'm looking at you) very stereo typical. Milestone was an attempt to bring some diversity in comics without being a stereotype. Dwayne was the writer at the forefront of a lot of these books. While I'm still not a huge fan of Icon, I think Static was a very good update of the Spider-Man style on teenage superhero. And I mustn't have been alone since he was the breakout character that not only got his own cartoon series but eventually appeared on Justice League Unlimited. Now you can make the argument that "Well McDuffie was a writer on JLU so that's how the character appeared" but you'd be half wrong. Keep in mind, all of the Milestone characters were owned by Milestone Media, NOT DC. So for Static to appear, Warner Brothers Animation would have had to license the character to appear. Don't think that would have happened if Warner's didn't see a real good point to it. Speaking of which…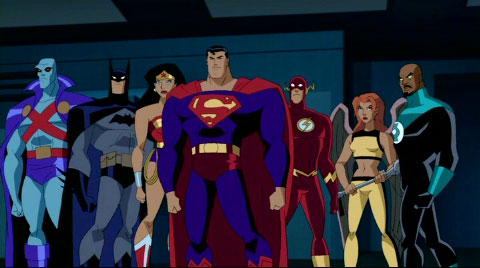 Justice League Unlimited
JLU has a few detractors in the cartoon fan community.
Screw'em.
JLU was my favorite out of all the DCU cartoons because I got to see characters I never dreamed I would see animated on tv. And while Dwayne had his hands in numerous aspects of JLU, I will forever be in his debt for one particular episode, Question Authority. While I love the Question throughout the series, this particular episode (written by McDuffie) just nails the version of the character I love the most to a T. Not just some crack pot but a man with a definite idea of right and wrong and how to do things. As much as Denny O'Neil owned the character, so did that work of Dwayne's.
Dwayne McDuffie in a lot of ways is the type of writer I want to be. Comics tended to treat him badly the past few years but he still kept working at them, even when his animation career meant he didn't have to. It's pretty obvious that Dwayne loved comics. He was talented with a good solid body of work. He will be missed.
As a closing thought, I contacted Sean Taylor, a creator I've had the pleasure of working with. Sean has recently put together a short story collection and I knew Dwayne had done an introduction for. Sean wrote up a fine tribute for Dwayne and I'm glad I get to share it with all of you.
Remembering Dwayne McDuffie By Sean Taylor
I didn't know Dwayne as well as most of the people who have paid tribute to him knew him. At best we were mere annual acquaintances, fellow professionals who saw each other at cons once a year. In fact, it took me several bits of correspondence to stop putting a "y" in his last name instead of an "ie." But regardless of that, Dwayne remains a bigger influence on my career as a writer than I'm sure he ever knew. I'm going to try to avoid describing Dwayne with adjectives and just focus on stories and interactions we had because it's those moments that show the kind of person he was so much better than just words. Dwayne was one of the few professionals I've know who had time to share an email or a phone call with a stranger taking his first few steps into writing and publishing comics. While I was working with Shooting Star Comics, I contacted him out of the blue from a Milestone fan group we both were members of, asking him if he could help me get in touch with John Paul Leon (I wanted JPL to do my cover for my first published comic book full issue, Fishnet Angel: Jane Doe #1). Next thing I knew, before barely a day had passed, I got a note from John Paul and within a few months, I had a cover to be proud of, thanks to Dwayne's introduction. When we finally met face to face in San Diego several years ago, Dwayne surprised me again by actually taking time to hang out at the Shooting Star Comics table and talking shop and posing for a few photos rather than rushing off to chat with other pros working at his level of popularity.
Then in New York a few years later, he greeted me by name from a crowd and as we sat in the "green room" (actually a curtained-off area with an oxygen bar) and talked about cartoons he was working on—even trusting me with spoilers. In every phone call and conversation we had, one thing remained true each time: Dwayne treated me as if I were more than just a newbie, more than just a minor pro just breaking in. If you had watched us and not known any differently, you would have assumed I was any other writer or editor for any number of companies. And when I shared with Dwayne the news of my first big IDW writing gig, writing for the Gene Simmons Dominatrix series and finally landing a big-time, marketed, high-profile book, he was as thrilled for me as I was. But more than anything else, the thing he did for me that continues to mean the most is that Dwayne wrote the foreword for my upcoming short story collection. He wrote many wonderful things about my work and said all the kind of nice things that any writer loves to hear, but he mentioned something in particular that I think I should turn right back around to describe his work instead. Dwayne said the stories were "more fully-rounded, more realistic and, as a direct result, more human than all but the best superhero comic book work." Kind words, and perhaps the best compliment I'll ever receive, but I can't think of any higher tribute than to give those same words back to the man who gave them to me… From his work on Damage Control, Milestone Comics, Justice League, Ben 10, and everything in between, nobody has more consistently inspired me as a creator than Dwayne McDuffie, the man whose full body of work is "more fully-rounded, more realistic and, as a direct result, more human" than that of almost any other creator in comics and animation. Dwayne, San Diego, New York, and many other conventions will not be the same without you. The world of comics and animation will not be the same without you. A lot of people are going to miss you, and I'm proud to be one of them. In a world filled with more people with more stories than can ever be told, your story mattered. And will go on mattering and inspiring others.