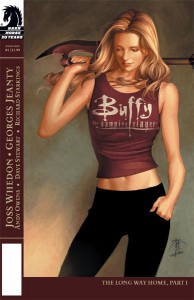 Hey there loyal reader…all five of you…, thanks for coming back.
I've been knee deep in a column for my own website as well as preparing one for Comic Book Daily which we should see next week (it required a good chunk of reading), so I was kind of at a loss with what my column was going to be about.
But luckily I went to my neighborhood comic shop on Wednesday and an idea hit me.
I am very much a "wait for the trade" type of guy. They're more convenient for me and due to my limited income, it works out pretty well. At the moment my pull box is allowed one monthly title and one mini series.  I then buy anything else in trade form with the exception of Moon Knight , Walking Dead, the recent reprint of Alan Moore's Swamp Thing and most Neil Gaiman titles which for some reason I decided hard covers are the way to go.
Trade wise capturing my attention is Grant Morrison's run on Batman, Runaways (which I prefer the manga sized editions), Criminal, occasional mini-series and every once and a while a surprise. For instance a few weeks ago I picked up Pinocchio Vampire Slayer from Slave Labor and it was well worth it. The other great thing about trades is they are much easier to lend out to friends. I try this very much like a crack dealer.  I get them hooked on a series or author, when I new one comes out, I make sure to mention it to them and usually one out of five will start buying it.
So what book is it that I can't wait five to ten months for? Which is the comic book I must have ever single month?
Buffy the Vampire Slayer Season 8.
I imagine some of you are a little surprised give some of the other recommendations I've made in the previous columns but I'll be honest, Buffy is that consistently good.
Let's get the first part out of the way. I'm a big fan of Joss Whedon mainly because in my opinion, we both have very similar writing styles.  Although Joss is much better at it than I am, we do have very similar sensibilities. His work, 9 times out of 10 worth a look (the only exception I'd make to that rule is his second arc on Astonishing X-Men was not great).  I was a fan of his television work (I got sucked into Firefly and the subsequently went into Buffy) and I am looking forward to his future internet work, especially if Dr. Horrible was any indication of how good it might get.
But the thing a lot of people tend to forget that is that Joss isn't writing the entire series.
Sure he's overseeing it but he's only jumping on a few arcs here and a one shot there. In the meantime he's brought in writers from comics (Brian K. Vaughn) and writers from the original show (current writer Jan Espenson was a mainstay of Buffy's creative staff and currently serves as show runner for Caprica) while Joss runs the ship along with editor Scott Allie.
Essentially not only is the story an extension of the tv show but so is the creative crew behind it.
The unsung hero of the series however has to be artist Georges Jeanty. Now others might disagree with me but Georges work is incredibly solid.  When I first picked up the book, I thought he was okay but his art really grew on me. It is clean, solid and consistent and fits in the book perfectly.  So much so that when they let the poor guy take a break for a few issues I tend to wish he was back drawing it. Georges has also managed to make all of the characters look the actors that portrayed them without giving up any of his style. He has impressed me enough that whatever he does after Buffy, I'm going to have to check out.
And I really want a sketch of Xander with an eye patch. Will have to hit Georges up next time I see him at a convention (for the record, met him a few years ago, very nice guy).
The other great thing about Buffy is the fact that because it feels like the tv series, it is strongly becoming the best "season" out of the lot because they can do what ever they want.
Hordes of monsters with no limit of an FX budget, hundreds maybe thousands of slayers up against the US army with ancient giant gods storming both sides and a submarine sitting in the middle.
This all adds up into a great sense of what I like to call "awesomeness". The writers have been unleashed but the characters are still the same.  Only now they can throw at Buffy and the Scoobies anything that Georges can draw. And given that we've seen submarines, magic and gigantic mecha version of Dawn stomping in Tokyo, I'm not sure what Georges can't draw.
The final thing that I like about Buffy is that it's given out the idea that tv shows don't have to end when they are canceled. Serenity has quickly followed suit as has Jericho and I've also heard rumblings of Pushing Daisies will also be joining the fray. And while I am all for new and creative comics, if some of my tv shows are going to be brought back and done as well as Buffy, I'm all for it.
Buffy is everything a licensed comic should be. It is well written, well drawn and keeps you wanting the next issue. Other companies should take a look at Buffy when they decide to license a property as the gold standard.
I promise I will with my take on The Adventures of Dr. Johnny Fever.
Brent Chittenden is a freelance writer and co-host of the podcast Two Assholes Talking About Nerd Stuff. He once got caught while checking out the rear end of a woman at a comic convention. The woman turned around and  then Brent realized it was Buffy actress Charisma Carpenter. She giggled and waved at Brent but has yet to return his calls.