52 weeks. 52 different writers. 2 trade paperbacks or hardcovers a week. Each week I'll take a look at a different writer and read two different collected editions from within that person's repertoire to help in the examination of their work.
Peter Milligan's earliest work in comics came with the start of his career back in the early 1980's, providing short stories for 2000AD.  It wasn't until the late 80's and early 90's that Peter Milligan began to make waves in the American comic market though.  Peter was part of the "British Invasion", a group of creators from the UK who worked on the 2000AD title before becoming recruited by DC Comics to create comics for them.  The movement, associated with the likes of Grant Morrison, Alan Moore, Brian Bolland, Neil Gaiman, and Peter Milligan (to name a few) was a rousing success and resulted in a changing of the guard in terms of the style of comics being produced.  A greater emphasis was placed on stronger language and more mature stories, proving to be a vital part of DC Comics creating the Vertigo imprint.
The Names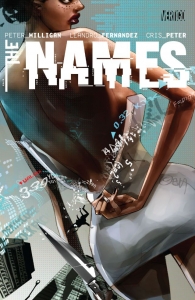 Katya Walker is the wife to the wealthy Kevin Walker, enjoying a blissful life as his young, invigorating better half.  All of this changes when Kevin unexpectedly jumps to his death from the fifty-first floor of his high-rise office.  Leaving behind a brief suicide note, Katya is destroyed when she discovers her husband has taken his own life.  Katya is so upset over this sudden turn of events that she refuses to accept that the death was a suicide, never believing Kevin to be depressed even though his medical records state otherwise.  This all sets Katya down a road of murder, money, and intrigue as she has no idea what she's even getting herself into.  Turning to her stepson, Philip, a selective mute who is far too intelligent for his own good, the unlikely duo begin to dig into the mysterious past Kevin kept secret from both of them.  What they uncover leads them into conflict with The Names, a group of people who essentially run the world's financial system.  This results in a psychopathic member of The Names, deemed "The Surgeon", attempting to track Katya and Philip down while they are on the run trying to discover who is actually responsible for Kevin's murder.  To make matters worse for the pair, the algorithms that The Names use to rig the financial market, known as Dark Loops, are quickly becoming powerful and self-aware, preparing to cripple the entire financial market if they go unchecked.  Philip and Katya unknowingly hold the key to defeating the Dark Loops but have no desire to help The Names, especially when one of their own is constantly on the cusp of killing them.
Peter Milligan creates a sexy and peculiar take on "Wall Street" with The Names.  The Names is equal parts thriller, mystery, action, and at times even feels as if it's a bit of a political drama.  A story that never really gives you a bead on what it's actually doing, The Names has plenty of high and low points, with Milligan seemingly flying by the seam of his pants more often than not.  There are so many rich facets to The Names but at times even the richest of them feel a little fumbled and misplaced, leaving you satisfied at some turns or disappointed at others.  To me, Peter Milligan nailed the portrayal and understanding of his characters but fumbled the plot in weird ways that just didn't do this premise justice.
The Names does plenty of things that make you want to keep reading the comic, with the richest element falling on to the "whodunnit" style of this story.  Through the first two-thirds of the story, you constantly find new questions and a steady stream of answers to the questions that make you wonder where Milligan will take the story next.  There are constant payoffs, but never the big one you're hoping to find,which becomes an unfortunate casualty of the less than stellar final three issues that completely change the feel of the entire series.  Through issues one to six you get a strong sense of everything leading to Katya discovering who killed her husband Kevin only to reach issues seven to nine and discover that, for some reason, the issue of the Dark Loops is now suddenly far more important to your central characters.  The idea of the Dark Loops are built up throughout the entire series (something Milligan doesn't do too well but we'll get to that later) but at no point does it feel like they should really be more important that finding Kevin's killer until it's abruptly forced upon you during the final "act" of the story.  This all bubbles down to some unfortunate plotting decisions, wherein you start to realize that Milligan expects you to take these blind leaps of faith as a reader along with him as he connects the dots in ways that just aren't rewarding.  Things like randomly introducing a character in the final issue who can potentially give Katya some answers about her husband's death is just sloppy and irresponsible writing.  It's a moment where you fear that Milligan is deciding to use this character as a deus ex machina, which is no fun for a reader who has decided to claw through all the previous issues in hopes of an answer.  In the end, and sorry to play spoiler sport here, there is no payoff for the initial plot that Milligan seems to promise the reader.  The reasoning and ideas as to which there is literally no resolution makes a shred of sense but it's insulting.  All this serves to do is make you feel as though Milligan had to rush an ending so that the series could wrap up in nine issues, leaving you thoroughly unsatisfied in the midst of a story that had a chance to be a real winner.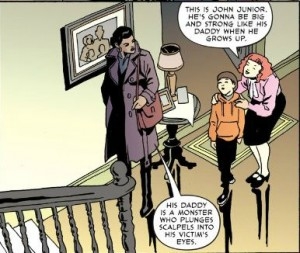 The characters of Katya, Philip, The Surgeon, and even the enigmatic Stoker are all some of the high points of this series, as Milligan clearly displays a knack for writing all of them.  All of these characters travel down a dangerous road together, caught up in plenty of intrigue that keeps them all guessing with every new revelation.  Milligan handles these characters and their emotional woes in such a concise way, with that being the true highlight of everything he builds.
With a lead like Katya you get an interesting female character who is strong but also somewhat annoying at times in not only her persistence but her ignorance as well.  The entire story feels as though Katya is just chasing something unobtainable while other characters make leaps that just don't make sense, all the while making Katya look like an idiot.  It's not that Milligan's understanding of the character is lacking, as again he nails the core of the character down, it's just the story decisions are what ultimately hurt the character, with some dumb moves from her coming back to haunt her in the long haul.  It all circles back to the issue with plotting I mentioned above, showing that, although the characters are strong, the plot makes too many blind leaps that don't add up in the long run which ultimately results in moments of character weakness.
Philip proves to be the true star of this story, as his charming yet manic ways are immediately endearing to the reader.  He's blunt, brilliant, rude, and so many other things under the sun without realizing it that he'll have you cheering for him from the first time he opens his mouth.  Milligan stress the strangeness of the character, largely due to his mental handicap, but he makes it an empowering aspect of the character while also using it as a logical explanation for some of the struggles he faces.  At every juncture of the story you have entertaining characters to climb through the story with, even if some of them make incredibly stupid decisions and the plot itself has issues with getting from one plot point to the next.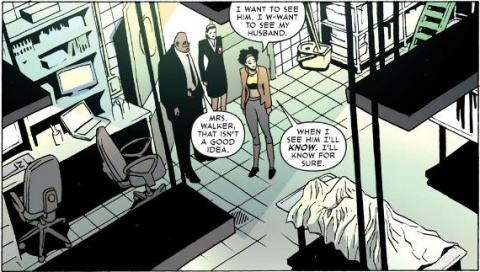 Collects: The Names #1-9.
Best Character: Philip Walker.
Best Line Of Dialogue/Caption: "I've never seen a naked woman." – Philip.
Best Scene/Moment: Philip gets the surprise of a lifetime – Issue 4/5.
Best Issue: Issue five.  This is considered the climax of the second act for this story and with it comes plenty of wild rides for the reader to embark on.  Some poor decisions on Katya's behalf lead to lots of exciting action and stupid choices from all parties involved.  The issue ends with yet another fascinating layer getting added to the mystery surrounding Kevin's death that is thoroughly entertaining.
Why You Should Read It: Pitfalls aside, The Names is a wild, veering Vertigo series for much of its first two-thirds of a story.  During these six issues there's a lot of fun mystery built and solved, even if the plot goes to ridiculous lengths to make it work sometimes.  The main reason The Names is worth reading is for Philip, as he is weird, wild, hilarious, and brilliant all in one oddball package that will make you love his character.  Read The Names for Philip alone and you'll be satisfied.
Justice League Dark Vol 1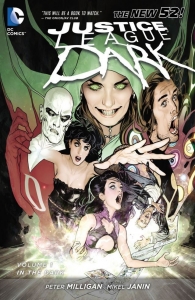 Peter Milligan has been a mainstay in comics for several decades now following the "British Invasion" that started in the late 80's.  As recent as 2011, Milligan found himself as an integral part of relaunching several DC Comics series with their New 52 initiative, launching Red Lantern Corps and Justice League Dark before transitioning on to Stormwatch several months later.  Milligan, well-known for his work with Vertigo characters, also got a crack at writing the character of John Constantine for the second time by bringing the character into the fold of the Justice League Dark roster, making the character a natural leader from his first appearance.
Madame Xanadu attempts to bring together characters with magical ties from all corners of the DC Universe to form the Justice League Dark.  Following a spell casted by Madame Xanadu, The Enchantress has begun to wreak havoc on the mortal plain, proving to be far too strong for Superman, Wonder Woman, and Cyborg.  Using her powers, Madame Xanadu attempts to correct her mistake by bring together the likes of John Constantine, Zatanna, Deadman, Shade, and Mindwarp in hopes of stopping The Enchantress from tearing the world apart.  With glimpses of a future constantly plaguing her, the pressure is on to force this unlikely group of individuals to work as a team, which proves to be easier said than done.  With each of these characters dealing with The Enchantress situation in their own, different ways, they must quickly learn to put their differences aside if they want to ensure that the Earth survives this latest instance of mystical mayhem.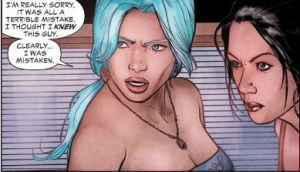 The truth about first volumes for most "team" related superhero books is that they are supposed to be some form of defining moment for the team.  Whether it be the first meeting of these characters, the formation of the team, or even their most heroic moment as a team, one of these three things are typically a central theme to the first storyline of a team book.  With Justice League Dark, Milligan does make this volume the first meeting between many of these characters, as well as forming the team, but it never really clicks in a satisfying way.  The first five issues in the volume go to great lengths to actually keep many members of the team as independent as possible, with none of them really ever working together to help resolve the primary conflict surrounding The Enchantress.  By the final issue in the volume, you get somewhat of a glimpse of the team coming together, but again it just lacks a certain snap to it to make it an appealing comic book moment.  A lot of your best moments in team books come from the clashing ideologies and philosophies of members of the team, with how they cope or overcome conflicting elements of who they are largely making up the drama of most stories.  With Justice League Dark though, we never get to see much of how Constantine's crass nature conflicts with someone who can be equally hotheaded like Boston Brand.  There are moments where it seems like these characters differing views will all come to a head just to be quickly brushed over, robbing the reader of any true emotional moments.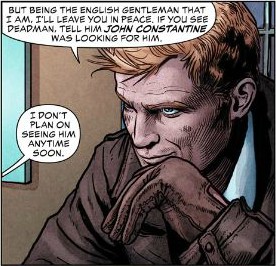 In terms of plot, it feels as though Milligan could have crafted a cleaner script to guide the action as you're always left feeling as though you're missing something.  A lot of it stems from what I stated in the previous paragraph, wherein this first volume is supposed to introduce this team but it feels like a book about a bunch of individuals instead.  With this volume marking the first meeting and formation of the Justice League Dark, you'd hope that Milligan would inform you a bit more about who these characters are or what the connective threads between some of them are but that's not the case.  Simply put, if you know at least a few things about these characters before reading this story, you'll be fine grasping what's going on.  But if this is your first DC Comics book, or your first time reading about some of these characters, you'll feel lost as it doesn't fairly introduce these characters to you as a reader.  It's an unfortunate truth for new readers to feel left out in the dark when it comes to this first outing of the Justice League Dark.
The one aspect of this book that Milligan does nail down is the representation of each individual character.  From top to bottom, almost every character that Milligan casts into this story has some form of role that is at least slightly important.  Milligan characterizes each character  perfectly, as you can easily get a sense of what makes each member of the cast tick.  Constantine is smug but loveable, having this bad boy style to him that you can't ignore, always stealing any scene he arrives in.  With a character like Deadman, Milligan captures the tortured essence of Boston Brand, an acrobatic ghost so to speak who can never be physically intimate with his girlfriend, The Dove.  It's one of the more fascinating pieces of work he does in this volume, examining the strain placed on a relationship shared between the living and the dead, taking time to show the reader that the physical barrier put in place can be detrimental to the couple's success.  The remaining members of the team all get at least a few moments that highlight their personalities, although some characters like Mindwarp just feel entirely out-of-place on the team, leaving you to wonder why they are relevant whatsoever to the plot or the cast.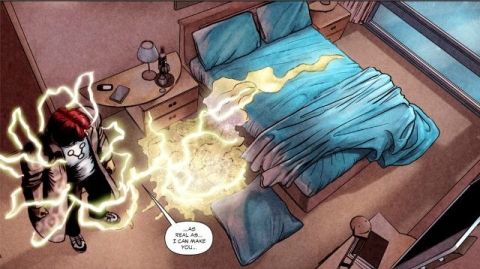 Collects: Justice League Dark #1-6
Best Character: John Constantine
Best Line Of Dialogue/Caption: "But being the English gentleman that I am, I'll leave you in peace." – John Constantine
Best Scene/Moment: Constantine saves the day – Issue 5
Best Issue: Issue 5.  Issue 5 brings the first story arc to a close, setting issue 6 as a one-off story to bring the team closer together.  John Constantine and Deadman are highlighted in an issue that has them largely at odds over what needs to be done to save the world.  It's how these two characters act for the duration of the issue that makes it the most memorable of the bunch, as Constantine is a hero in a situation where being the hero entails making an impossible decision and Deadman feels more human than he's felt in years as a result.
Why You Should Read It: Peter Milligan is a true treat when it comes to writing characters like John Constantine or Deadman and for that alone you should at least check out this first volume of Justice League Dark.  The plot is fairly standard and doesn't work more often than not, but the beautiful visuals by Mikel Janin help to balance that out.  The individual interpretations on these characters is far more rewarding than the aspect of them all working as a team so you can fall in love with the way Milligan writes a guy like Constantine fairly easily.