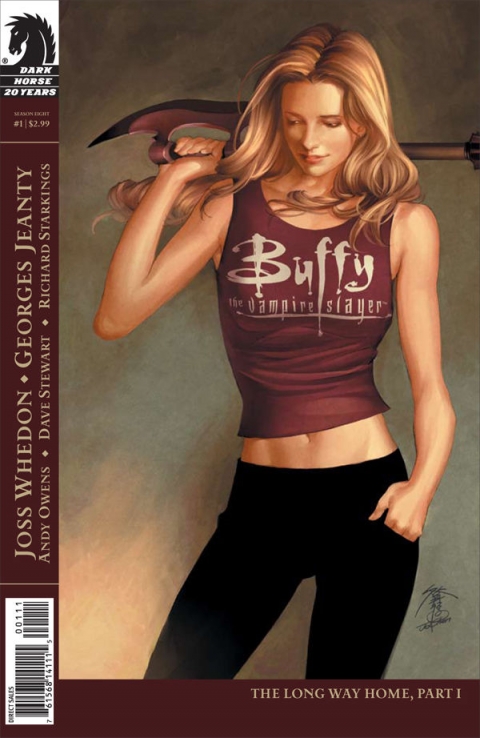 Buffy the Vampire Slayer: Season 8, #1, Dark Horse Comics, March 2007
Over the past couple of years there's been all kinds of positive media on the rising number of female comic book readers. It's often noted that there has never been so many great female characters, Ms. Marvel, Thor, Harley Quinn, A Force etc. all delivering great art and great storytelling.
One of the big beneficiaries of this trend is the local comic book shop. Go to any good local shop and you'll see a steady flow of comic book culture fans young and old, male and female. We old timers know it wasn't always like this.
Local comic book shops have come a long way and this week I'd like to focus the Undervalued Spotlight on one comic that had a lot to do with all this current goodness. This week I turn the Spotlight on Buffy the Vampire Slayer: Season 8 #1.
I remember this time quite well; there was so much excitement and dare I say pride at the comic shop level in the fact that Joss Whedon chose the comic medium to continue his Buffy exploits. What a vote of confidence for the industry that was! Here we have one of the most popular TV shows of that time ending and the creator entrusts comic books to keep telling the stories.
There was worry though, Buffy fans were mostly female and female customers were not exactly numerous in comic shops. I will say our shop had a lot of female readers coming in for Manga at the time but the Manga crowd didn't turn out to be the Buffy crowd.
In the end there turned out to be nothing to worry about. Buffy fans ventured into the comic book shops; often it was their first trip in. I remember having discussions with the rest of the crew, we talked about how to change the store in layout and appearance in order to impress and keep these new customers.
Many comic shops obviously did the same. Buffy sold really well and we had a nice stream of fresh new customers coming in to buy them. I remember around that time Stephen King's Dark Tower was being adapted for comic books, new material was actually being written I believe, that happened between points in the books. This was another new wave of customers coming in – book people.
Let's get back to Buffy. I think this is an important comic, I think Mr. Whedon's confidence in comics infused a huge boost of respectability in the medium. There were waves of writers and artists from other medium now willing to come over and explore the possibility of comics. For a little while anyway it was sort of like what the cable TV industry is going through now. Yeah! We don't have to be ashamed we write/act/produce a TV series anymore. Same for comic books thanks in part to Buffy the Vampire Slayer #1.
Every good comic collection needs this comic in it's because every good comic collection needs to have all those important game changing comics that have shaped and ushered in new eras. Buffy the Vampire Slayer: Season 8 #1 was an important moment in comics and if you look around you I'd say it didn't squander the opportunity the moment presented it.
Our shop, and again obviously many others, did a good job helping these new customers discover other comics they'd enjoy. Y the Last Man, Fables etc. were great comics to recommend. Some went further and began to explore the traditional Marvel and DC titles albeit skewing to female driven characters.
Buffy Season 8 was only supposed to go 25 issues but ended but being extended to #40. A nice healthy run that spawned other Buffy related titles. This is an important comic book that is not getting it's due.
The 45th Overstreet price breaks for this book is $6 in the 9.2 grade split.
Strengths that make this comic a good long term investment are:
Important event in comic book history
Guide price way too low as of this post