Marvel has announced they'll be publishing John Carter: A Princess Of Mars this September.  Here's the info: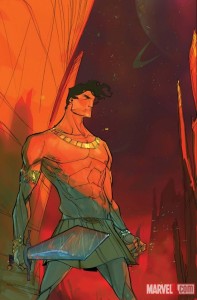 [quote]New York, NY, June 7— Marvel Entertainment, in collaboration with the Edgar Rice Burroughs estate, is proud to announce all new graphic fiction adaptations of the legendary John Carter novels, beginning with John Carter: A Princess of Mars #1 (of 5) in September 2011. By working closely with the ERB estate, all John Carter comics produced with Marvel Entertainment will be considered part of the official canon, adding new layers to the rich mythos created by Burroughs.
Transported to the dying planet of Mars, Captain John Carter must now fight for his life against creatures unlike any ever seen by mankind. But as he finds himself enveloped by an alien civil war, he meets the proud and beautiful Dejah Thoris, Princess of Helium, who will change his life forever!
"With our new partnership with Marvel Entertainment, we believe we have found the best creative force to revive the thrills and adventures in the 21st Century of the legendary John Carter of Mars.  We are looking forward to introducing this original interplanetary adventurer to a new generation of fans and await the first issue with great anticipation," said  James Sullos, President of Edgar Rice Burroughs, Inc.
Re-envisioned by acclaimed scribe Roger Langridge (Thor: The Mighty Avenger) and fan-favorite artist Filipe Andrade (Onslaught Unleashed), with covers by Eisner-winner Skottie Young (Wonderful Wizard of Oz), John Carter: A Princess of Mars #1 (of 5) brings you the story you love like you've never seen it before.
"Edgar Rice Burroughs created one of the great action heroes in John Carter and we're excited to bring his novels to comics for a new generation," said Axel Alonso, Marvel Editor-In-Chief. "Roger and Filipe are going to blow everyone away with their take on the John Carter novels, keeping fans new and old on the edge of their seats."
This September, one of the greatest action stories of all time comes to life in John Carter: A Princess of Mars #1![/quote]
What hit me about this release was it's all ages rating; Marvel doesn't seem to do well marketing all ages material.  On the creative team we have Roger Langridge who wrote Marvel's last big all ages book that was canceled after eight issues.  For art we have Filipe Andrade who has an energetic and very modern style.
John Carter is a classic property that should attract younger non-comic readers if the book is developed well and has strong digital and trade paperback marketing.  The line "all John Carter comics" gives me the impression Marvel plans to give this one a real go.
I can't imagine why Marvel feels Andrade can't carry the series with his own covers; is Skottie Young now a big time cover artist?