I'm back from the Boston Comicon 2011 this past weekend.  This was a very traditional comic book show: comic dealers and creators in a big room with fans milling about.  A few toy dealers around but mostly comic retailers set up to sell, plus a ton of comic creators.
Boston Comicon is an independent show, no big corporate connections and as such there were no comic studios in attendance.  What they had were dealers selling a lot of comic books, golden age and up.  A lot of the local retailers had a mix of items: I spotted a lot of Marvel and DC hardcovers that Diamond has been liquidating lately.  A few vendors had older collected material and I was able to get a few items I'll be showcasing in Bound Together over the next few months.  I was pleasantly surprised as most shows retailers only bring what's new and discounted as far as hardcovers and trade paperbacks go.
Of course I was really here for comic book art.  I made a priority list of artists I wanted sketches from and was able to weed out a few before the show.  Mark Chiarello is a rare convention guest but he let me know via email that he was only reviewing portfolios at the show.
I guessed Darwyn Cooke wouldn't be sketching and that was confirmed when I spoke with him; he gave me a glimmer of hope that he may be sketching at Fan Expo this August in Toronto.  He said he was working on a big project for DC that would be announced in October and of course the Parker adaptations.  I asked about an IDW Artist's edition for the Parker material and he wasn't sure but said he'd be painting a cover on twelve Martini editions: I can only imagine where those will be going.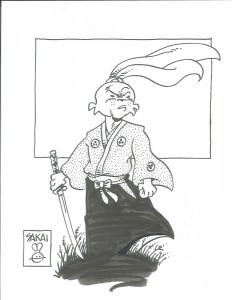 That led me to Stan Sakai's table where he had about twenty completed inked sketches ready to go for $120-140 each.  This is always appreciated as the artist will take more time to get these done before a show.  He was also sketching for $50 but I went with one of the completed images of Usagi.  Some great covers for $400 or a little more but I didn't want to commit to anything that large so early into the show.  Unfortunately I never made it back to his table but hope to get something more substantial at his Montreal appearance this year.
Tony Harris was sketching for $175 with eight slots a day: I was his first and requested Round Eye since he'll be producing a book on this character next year.  He had created a custom border  on heavy paper with the date for his sketches and it was a really nice touch.  That's him above working on my sketch and the finished product beside.  Tony said he was glad to be done using photo reference on Ex Machina and enjoyed going back to straight drawing.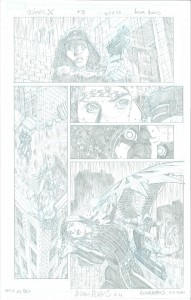 I tried to get on Art Adams list but he was full within the first few minutes of the show: the same was true for Adam Hughes.  I picked up a page of Adams art for $180; it seemed a good deal and he had $400 on the back so I guess he was looking to clear these out.
Dave Johnson was sketching for $100 but he had some great blue line preliminaries for $150 so I picked those up instead: sketches could go either way but with a completed work you know what you're buying.
J. Scott Campbell had the biggest line at the show and I never made it close to his table, nor did I locate Frank Quitely.  Neal Adams was charging $10 for his signature which seemed steep to me.  I wandered by a lot of the guests tables including Howard Chaykin, Tim Sale, Matt Wagner and Joe Quinones but either their list was full or I didn't want to commit the cash.
Overall Boston Comicon 2011 was a good solid comic show with a fantastic artist alley.