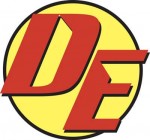 Dy-No-Mite!
Diamond Daily reports that Dynamite Entertainment has entered into an agreement with Dabel Brothers Publishing to bring their works under the Dynamite brand, expanding their publishing business. Dynamite is home to titles like Alex Ross' Project Superpowers, Garth Ennis' The Boys, and Robert E. Howard's Red Sonja.
Dabel Brothers has adapted to the medium of comics sci-fi and fantasy works by George R.R. Martin (Wild Cards) and Robert Jordan (The Wheel of Time). With this agreement between the companies, Dynamite will immediately assume creative development, production, printing, marketing, and sales for the projects handled by Dabel Brothers Publishing, including books in development and projects not yet announced.
Diamond Daily goes on to say that both companies see this as a way of bringing Dabel's literary adaptations to greater attention in comic shops and bookstores. Said Les Dabel, "Dynamite has impressed us with their ability to market their titles to such a broad audience."
For Dynamite, which has recently begun publishing adaptations of classic literary works such as Bram Stoker's Dracula, Lewis Carroll's Alice's Adventures in Wonderland, and Sir Arthur Conan Doyle's Sherlock Holmes, the acquisition will help them bring modern literary works to the comic book audience, according to Dynamite President & Publisher Nick Barrucci.
"We look forward to working with all of the distinguished authors on their great works and helping to bring them to a larger audience," said Barrucci in an official press release issued yesterday by Dynamite Entertainment & Dabel Brothers Publishing.