Welcome to another fabulous edition of the ComicbookDaily con report focusing on the dealers of Fan Expo 2010.
In the closing hours of the show, I walked the floor talking to various dealers to hear about their big sales and purchases, comments and anything else they had to say about the show.I'm not sure why, but I had a lot more success talking to dealers this time, as at the Wizard World Toronto show, I was getting shot down left and right by the U.S dealers who didn't even want to mention what was selling for them, let alone talk numbers. I swear, I'm not the IRS even though I'm Asian and decent at math.
One common thread to all of these guys that I will comment on again and again on was the Stan Lee effect on sales of books. If you want to make your dealers happy at the show, have Stan Lee there. It seems that everyone who didn't bring their own books to get signed were making a mad dash towards the dealers to find the book that was just right for them to put Stan Lee's name in ink on.
So let's kick things off with Harley Yee of Harley Yee's rare comics!
Harley Yee: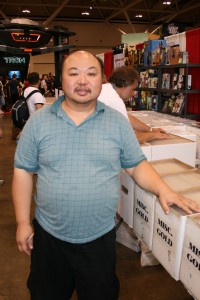 Harley had a strong showing of books as usual despite also having a presence at the Baltimore Comic-Con this weekend as well. The best stuff was taken to Fan Expo while Baltimore got the dupes and lower grade stuff. Some key books that Harley sold were: Amazing Fantasy 15 CGC 5.5 purple label for $5000 (forgot to ask what the resto on it was),  a few Timely Cap some of which went for 1500 (couldn't make out my chicken scratch notebook for the issue #'s). The hot books for Harley were ASM 50, 129, Hulk 181, the usual suspects which were made even hotter by the Stan Lee effect as people came by looking for that beautiful Stan Lee signing copy which made Marvel hot all around in all categories. What was slow were misc G.A that weren't Marvel or DC. Most requested other than stuff like 181, 129 was for Walking Dead which isn't Harley's usual stuff. Harley felt that the show had a good buzz all around and despite the hiccups other felt on issues like overcrowding, it didn't really affect him and he found the show to still be well run.  It's always a pleasure to talk to Harley, he's a stand-up guy.
Bruno: Beacon Comics, Quebec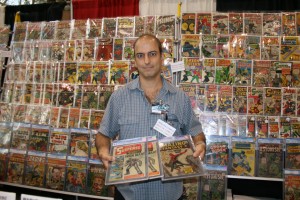 Bruno is a primarily vintage dealer who certainly felt the Stan Lee effect on his sales as he definitely noticed his Marvel sales were high with most  runs being filled in the silver and early bronze era while his DC's weren't really moving at all. It's even more noticeable when we look at some of his highlight sales. We've got: Captain America #10 CGC 2.5 for $1000, Marvel Mystery Comics #12 CGC 5.5 for $1500, Captain America #11 CGC 3.0 for $1000 and a raw ASM #1 in FN+ for $6500 Avengers #4 raw G/VG for $400, ASM #100 CGC 9.0 for $215, and a raw FF#48 for $250, some serious Marvel books trading hands there. Most requested books were: ASM #129, Avengers #4, Hulk #181 (starting to see a theme here?). Bruno didn't do the Wizard World Toronto this yea r and it doesn't seem like we can expect him there next year either, citing that inventory turnover isn't significant enough to make it worth it.
Oscar: Major Comics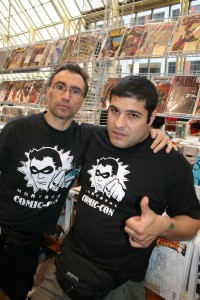 Oscar of Major Comics is also the organizer for the Montreal Comic-Con, which is taking place September 11-12. Oscar deals mainly in more modern stuff, so Major Comics' area was mainly $1 dollar bins, t-shirts, modern books and middle of the line books in value. Stuff like New Mutants #98, Killing Joke, good solid books but not huge money makers. Since Major Comics doesn't deal heavily in vintage; their most requested books were for current hotstuff like: Green Lantern and Deadpool.  For Oscar, it was their best Fan Expo ever with the Stan Lee effect causing readers who wanted Stan Lee's autograph on a boo but didn't have the cash for an expensive key book to pick up a good middle of the road book that had growth potential (my sentence syntax is awful here but eventually this thread will be buried and I won't have to look at it anymore). We won't be seeing Oscar at the Wizard World show next year since he doesn't feel that there's enough room in Toronto for 2 big shows (I think there is, but Wizard World needs to step up and organize their stuff better and really bring their A-game when it comes to guests).  Even though it was their best Fan Expo ever, Oscar did have some issues with the show itself. The fiasco on Saturday coupled with line-ups didn't help and the way that unloading occurs at the end of the show ensures pure chaos in the loading docks. But again, overall a good experience and he felt that Hobbystar did a good job of bringing in the attendees even if they couldn't all fit in at the same time.
Norm: Myth Legends & Heroes, Ottawa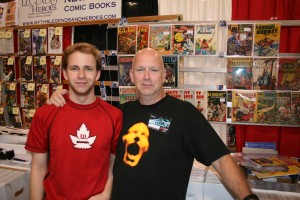 The booth setup at Myth Legends & Heroes was kind of confusing when I showed up. On one side was all modern back issues with recent variants lining their walls while on the other side of the partition in a smaller cubby area was all the vintage stuff. At first I thought it was two separate stores operating under the same name…and well it turns out that pretty much was it. The physical store stocks mainly the modern stuff while their vintage stuff is brought out only for conventions and special requests. Like Oscar, Norm had his best year at Fan Expo yet with the Stan Lee effect draining his bins of Marvel books. In this case though, there weren't any really big highlight sales except for a Four Colour #87 raw which went for $200. It was mainly run books and note keys that were driving sales. Even though Marvel was doing the bulk of sales, Norm also had a big run on horror books which was relegated mainly to the Gold Key stuff since his EC stuff was all snatched up already.
Well, that's it for now, I'll update this post once I got the scoop from Walter at Big B Comics on what sold and for how much.
David Diep is a News Editor for ComicBookDaily, an assistant manager at Big B Comics in Hamilton, Ontario, and a bad person who covets other people's comics, comic book art and wives if they are really attractive.