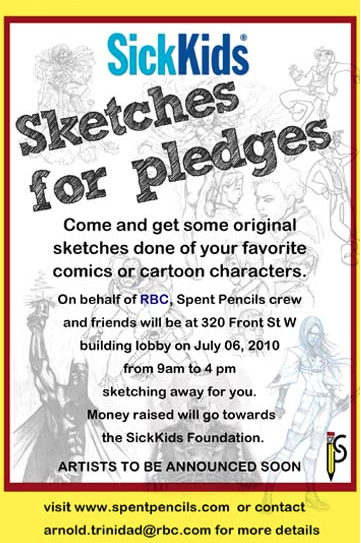 A group of artists are getting together to draw sketches to help raise funds for Sick Kids Hospital, on behalf of the Royal Bank of Canada (RBC).
Artists that will be appearing are: Agnes Garbowska (Marvel's Girls Comics#1, You, Me and Zombie) , Francis Manapul (DC's The Flash, Superboy and Legion of Superheroes), Daniel Wong ( McHozer Studios), and from Spent Pencil Studios: Briana Chan, Vince Sunico, Paul Limgenco, Gerard De La Costa, Khanh Nguyen and Arnold Trinidad. And last but not least, Marvin Law (Conquer Entertainment) will be there!
Two more artists just added to the line up: "Gogz" and "Marv", both from Powie Studios.
So come on out, and help support a great cause and get a great sketch in the process.
TUESDAY, JULY 6th – 9AM – 4PM
320 Front Street West, Toronto, ON – in the Lobby (directly across from the Rogers Centre)
Sketches for Pledges is being organized by Arnold Trinidad (Spent Pencil Studios).
It's quite a nice little line up and I'm sure that most of you are all dying to get a sketch from any one of those uber-talented artists!