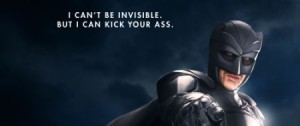 Nick Cage is a weird actor. He's only good when he's playing really off the wall characters – whenever he goes for 'quasi-normal good guy' I tend to hate him. Have you ever watched National Treasure? Holy god was that terrible..
So when I heard he was going to be in the movie adaptation of Mark Millar and JRJr's Kick-Ass I crossed my fingers and hoped we'd see that manic character actor of Raising Arizona and not the brooding wig wearer from Ghost Rider.. well, from this clip below it looks like it'll be more in tune with the first… at least – hopefully.
Everyone who's come out of BNAT this year has raved and raved about Kick-Ass. Best superhero movie yet, they say. It upstaged Avatar, they say. Most badass film since Hard Boiled, says Harry. Our buddies over at UGO revealed an exclusive new poster for the film today, which offers the first full look of Nicolas Cage in his superhero outfit. Head on over there and check it out!