The Beat just broke the news of Marvel's newest line: Girl Comic.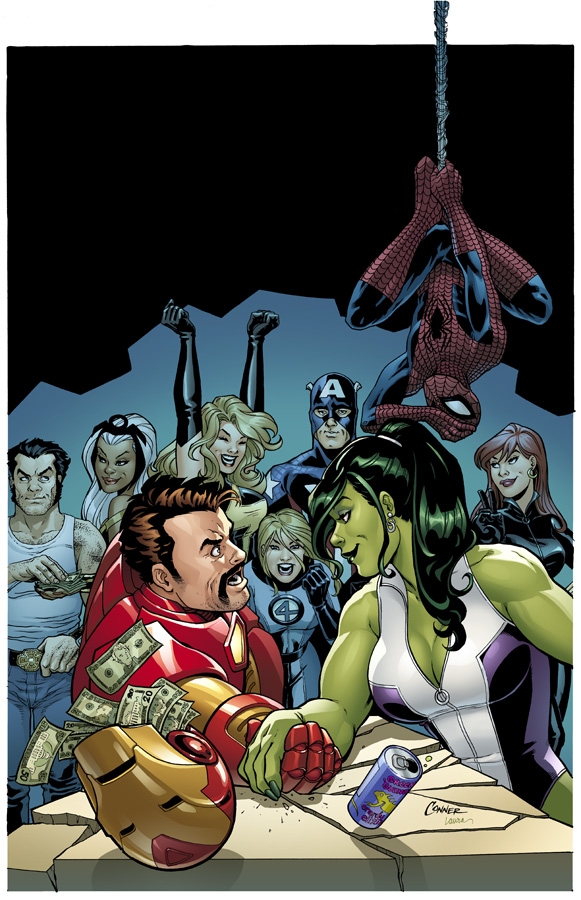 In light of some of the scathing commentary regarding the anti-female vibe that seems to permeate the Marvel titles, it seems funny that Marvel would come out with this comic… but hey, any comic that features (among others)  Kathryn Immonen, Marjorie Liu, Louise Simonson, Amanda Conner, Ann Nocenti, Devin Grayson, G. Willow Wilson, Valerie D'Orazio, Ming Doyle, is alright in my books. (Though, where's Kate Beaton – I want a Kitty Pryde meets The Dief story!)
The book is edited by Jeanine Schaefer, and we're happy to debut the cover of the first issue, by Amanda Conner, colored by Laura Martin. Jeanine elaborated on the book to The Beat:
"It's actually comics BY women—and I mean, top to bottom: written, penciled, inked, colored, lettered. The logo is by a woman, all the interior design, production, proof-reading and editing is all by women," Schaefer said. "Although some creators have gravitated towards their favorite female super hero, it's not specifically focused on our female characters, and I'm not trying to generate content that I think will appeal to more women. I don't want to give away all the stories, but we're really running the gamut of Marvel characters, from Punisher to the FF to Mary Jane. We're making great comics by great women, period—when given the opportunity to create a story about whatever they wanted, the pitches I got back from everyone have been hugely diverse in tone and characters."

"My original hope with this was to show that women in comics are already creating just as diverse a range of stories as men. I think the characters and the stories will draw in just as many men in as women, and will get people thinking that good comics aren't about the gender of the writer or artist, it's about where what you like to read intersects with what they like to create."
The first issue is due in March.