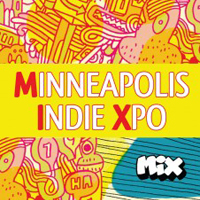 Check out some of the great artwork and projects you can expect to see at MIX 2010!
The Minneapolis Indie Xpo has run out of exhibitor space, but you can still attend! Fun and adventure! Minneapolis, ahoy! Admission is free.
MIX will take place on Saturday, August 21, 9am-5pm. Please join us for the kickoff party and signing at Big Brain Comics on Friday, August 20, and for the after-party at Altered Esthetics on Saturday, August 21. Details to follow.
While I've never been to Minneapolis – I would totally drive to Prince's birthplace in a heartbeat for  the talent listed in the video!