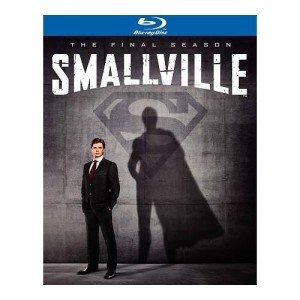 Well Smallville fans, it is finally time.  Season 10, the final Smallville season is now available on DVD and Blu-Ray.
Season 10 will wrap up the complete series and will we see Clark finally wear the tights and cape?
To tell the truth, I have no idea.
Smallville is one of my favourite television shows… ever.  I have purchased every single season on DVD.  I followed the series every week when it was on TV.  I even followed it from its original broadcast slot of Tuesday night to Thursdays, then to its final broadcast slot of Friday night.  There was even a couple network changes during that time too.  Smallville started on the WB which then became the CW Network.  During the 10 year run Smallville's rating have fluctuated, and the cast has changed many times.  The only constant has been the shows star, Tom Welling.
The reason I don't know what happened in Season 10 is I avoided the show completely.  I was in between television providers when Season 10 started.  My thinking is if I can't see every episode in sequence, I would avoid it altogether and catch it on DVD.  I know I can watch it online, but I prefer to watch it at my leisure at home.
I have even completely avoided reading any reviews of the season, and I've completely avoided any episode synopsii or forums.
I can't tell you how excited I am to get my hands on Season 10 of Smallville.  I would love to pick it up on Blu-Ray, but I prefer to get it on DVD because it is easier for me to watch it, anywhere, anytime.
Stay tuned to Comic Book Daily for my review of Season 10 of Smallville, as soon as I can get through all those episodes.