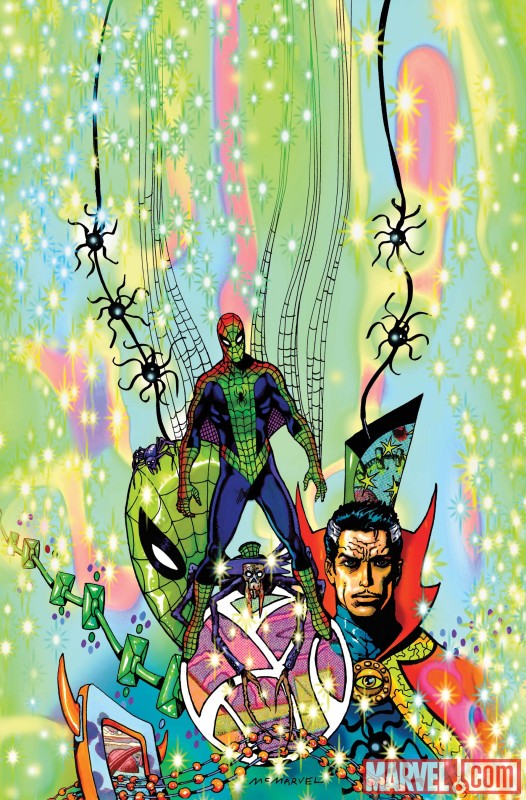 I mentioned it in my most anticipated comics of 2010, and Marvel has finally made good. over on Marvel.com, they've released an early look at the Spider-Man solicits for April – and between news that Chris Bachalo and Lee Weeks were returning to the title, we also found at that Spider-Man: Fever, the long awaited miniseries written and drawn by Brendan McCarthy.  McCarthy is known for his avant guard art style and  his work in British comics, working alongside such luminaries as Alan Moore, Dave Gibbons, Grant Morrison. He also did design work on the Canadian computer animated series Reboot.
For those of you unaware, Fever is said to be a loose sequel to the classic 1965 Spider-Man Annual story wherein Doctor Strange and Spidey team up. I'm not 100% which story it is and digging through my collection of Essential Spider-Man volumes, the only story I could find with Spidey and Strange involved Flash Thompson returning from Vietnam with his girlfriend in toe.
Here's the solicitation for those curious: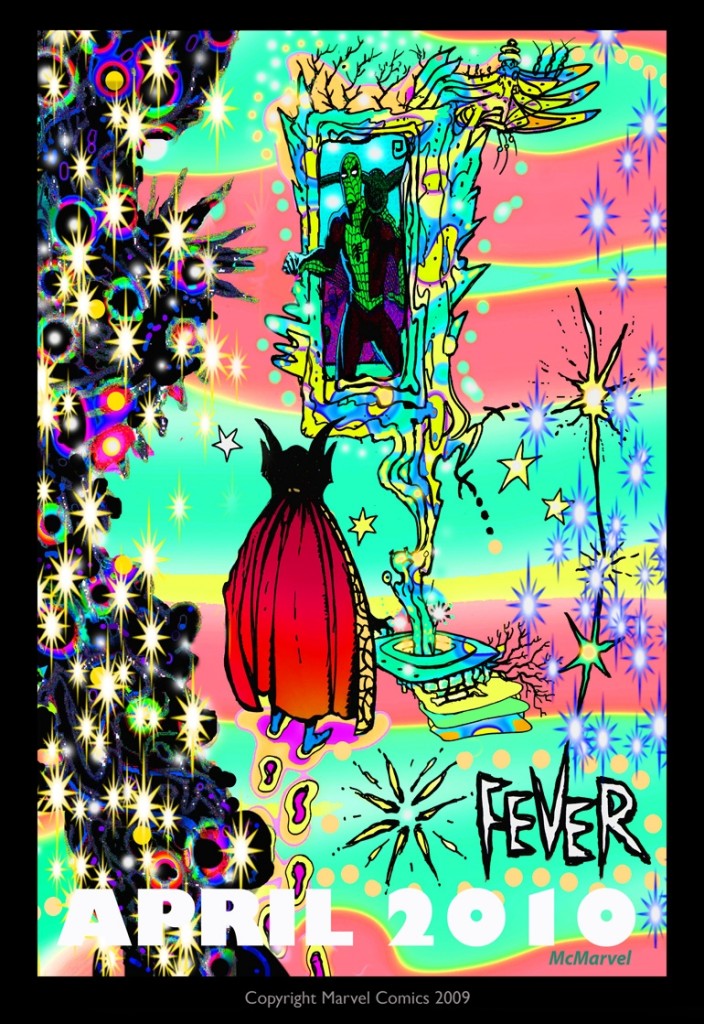 SPIDER-MAN: FEVER #1 (of 3)
Written by BRENDAN MCCARTHY
Pencils & Cover by BRENDAN MCCARTHY
One of comics' most innovative and original voices, Brendan McCarthy, brings SPIDER-MAN: FEVER — a truly unique and surreal story evoking the classic Silver-Age psychedelia of Steve Ditko's Dr Strange. In FEVER, Spider-Man is abducted by a depraved tribe of spider-demons to a bizarre dimension, where he is to be eaten alive. Dr. Strange goes on a perilous occult quest to rescue his friend — and tangles with some very peculiar characters along the way…
32 PGS./Parental Advisory …$3.99
Add it to your pull, as this could be the best Dr. Strange story since Bryan K. Vaughan and Marcos Martin's The Oath!