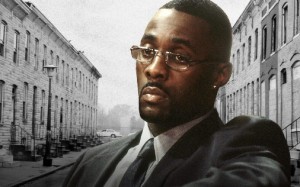 I've recently just finished watching the Wire – it's bar none the best television show of this decade, and essentially sums up the corruption that permeate every part of america – but it's also a real pick me up. Idris Elba has taken his role in the show – as drug kingpin Stringer Bell – the brains behind the power of the Barksdale crew – and has gone on to bigger and better things (He was the 'badguy' in the Office, He's playing the bad guy in the movie adaptation of Andy Diggle/Jock's comic book the Losers) and that now seems to include Kenneth Branagh's Thor.
Heat Vision tells us that Elba will play "Heimdall; as the guardian of Asgard, he stands on the BiFrost Bridge ready to defend the city from intruders." Because we here at Comicbookdaily are pretty much the best of the best when it comes to investigative journalism.. I too decided to dig a little deeper and this is what I've found – thanks to wikipedia:
Heimdall is the brother of the warrior Sif.
In his first appearance, Heimdall warned Odin of a Vanna's reconnaissance of Asgard.
When next seen, he battled Thor to prevent him from entering Asgard;
He then battled Thor to prevent him from leaving Asgard.
Heimdall is armed with an enchanted sword that has, on at least one occasion, allowed him to mystically disguise himself as a normal human while on Earth.
He traveled to Earth with Kamorr the dwarf to search for human candidates for godhood.
So, yeah, basically he sounds like an all around ass-kicker. What are the chances that we'll get a spin off movie starring him and Kamorr the Dwarf (played ably by Steve Buscemi)? I'd totally watch it.