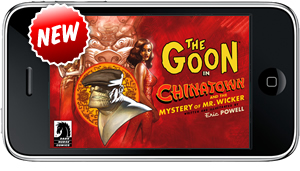 Now, The Goon goes digital, as both Chinatown and the Mystery of Mr. Wicker and The Goon #7, which features Hellboy, are made available on the iPhone platform. Chinatown marks Powell's first self-contained graphic novel, which chronicles the earliest adventures of Goon and his wisecracking sidekick, Franky. After a new figure in the crime scene begins taking out the Goon's business operations one by one, the Goon's darkest moment comes back to haunt him, when his mind and body were left scarred . . . and his heart was left black. This new platform promises to expose an all-new readership to comics' most beloved brute.
Not to worry, however: longtime fans will be rewarded with an all-new spinoff title based around Goon Year's most notable character, Buzzard. Eric Powell gives one of his most beloved and mysterious characters his own highly anticipated, three-issue miniseries.
Following his brutal showdown with the loathsome Zombie Priest, Buzzard leaves his home, wandering aimlessly until he steps into the shadowy spirit realm of the forest. A dark path leads him to a small village living in fear of a bestial race of savages. More animal than man, these creatures hunt the villagers and drag them from their slumber in the depth of night.
"Buzzard has always been a personal favorite of mine from the Goon cast, and from the amount of requests I've gotten to give him his own series, I imagine he's a favorite of the readers as well," said Goon creator Eric Powell. "I'm really excited to finally be giving him his own story, along with the revival of Billy the Kid's Old Timey Oddities!"
For those who missed Goon Year, Dark Horse will be giving this twelve-issue story line the deluxe treatment with the release of Fancy Pants Edition Volume 3: Goon Year on July seventh. Powell's all-new Buzzard series will arrive on shelves later this fall.
Look for news forthcoming on the return of the Billy the Kid's Old Timey Oddities short stories—a revival of the series from 2005 that paired Eric Powell with artist Kyle Hotz. The three-issue series will launch later this year.
Chinatown and the Mystery of Mr. Wicker is available for download today in the iTunes store. For a limited time, this heart-wrenching story is available for the sale price of 1.99. In addition, the celebrated one-shot The Goon #7 is available for free download for the next three days.
For more information, visit www.darkhorse.com/features/mobile.