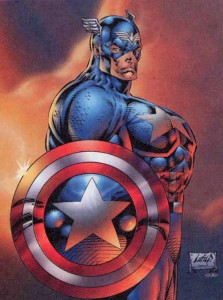 According to The Hollywood Reporter, Chris Evans has been offered the role of Captain America. Evans is also known to Marvel movie fans as The Human Torch in the mildly received Fantastic Four films. So like Ryan Reynolds before him, he might have the distinction of playing two different superhero characters in the past decade. An interesting quote from the article:
Evans' offer would include starring in up to three "America" movies plus "The Avengers" movies and appearances in several other Marvel movies.
Up to three America movies? If precedent has been set by Spider-Man, expect the first two to be great while the third features a mopey emo Captain America who turns his back on the flag and becomes Nomad for a while before returning for a reboot in an eventual 4th film that will be stalled again and again.