Here's a little story about a book you've probably never heard of but will most definitely want to own.  Read on.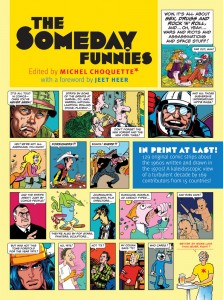 Try to imagine the greatest comic anthology ever. It would probably include artists like Wally Wood, Bill Griffith, Don Martin, and Denny O'Neil. And if you truly let yourself dream, it might include comics luminaries like Harvey Kurtzman, Jack Kirby, Art Spiegelman, Sergio Aragones, Moebius, and Will Eisner. But never could you imagine an anthology so grand and magnificent that it would attract the likes of William Burroughs, Frederico Fellini, Tom Wolfe, and Frank Zappa, who were legends outside of the comics world. Well, one individual actually put this grand collection together – almost. "The Someday Funnies" began as a small project by Michel Choquette, a young and ambitious "National Lampoon" editor, in the 1970s and was first conceived of as a special comics insert chronicling the 1960s for "Rolling Stone" magazine. However, the project took on a life of its own and seven years later Choquette found himself $300,000 in debt and with no publishing partner. With dismal prospects for publication, Choquette placed the project in storage and went home to Montreal. It wasn't until over forty years later when a story about this legendary collection was published in the August 2009 edition of the "Comics Journal" that the public ever got a glimpse of this remarkable body of work. What was published in the article was just the beginning of the collection. Abrams ComicArts is proud to release this infamous body of work in a format that is sure to astonish.
The Someday Funnies is getting a lot of press this week since Abrams announced a publication date of November 1 2011.  Can you imagine traveling around in the 1960s getting comic creators to do a one or two page story for you?  Amazing.  Additional reading for this is the Comics Journal article that started the resurgence in 2009, a McLeans feature from the same year and an interview this week at ICv2.  I love that Choquette compares it to Wednesday Comics, only bigger.