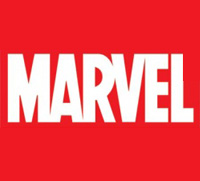 So, let's take a small perusal of just what looks good to me from Marvel's Solicitations for December.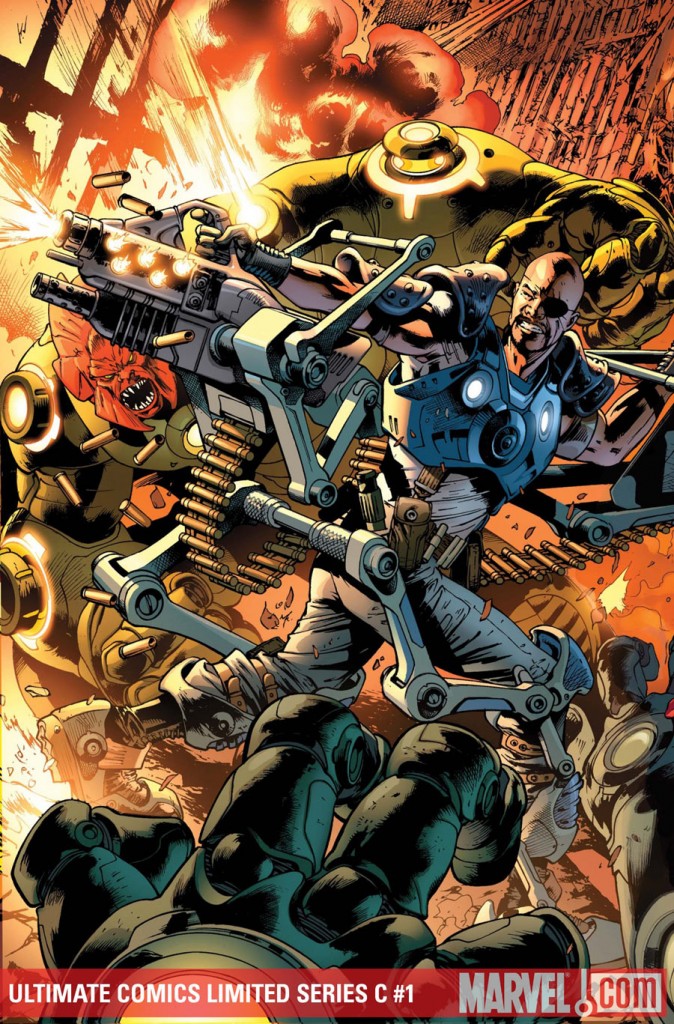 ULTIMATE COMICS DOOM #1 (of 4)
Written by BRIAN MICHAEL BENDIS
Penciled by RAFA SANDOVAL
Cover by BRYAN HITCH
Variant Cover by Terry Dodson
The enemy has revealed itself and the Ultimate Universe has been rocked to its very core.  Now, the surviving heroes must put together the most bad ass covert ops team ever if they have any chance of catching up to the enemy before he/she strikes again.
This mega-series has been okay… nothing really fantastic, but I will admit that the Bryan Hitch cover looks pretty awesome. Nick Fury is rocking a pretty swanky stripped down Ripley-esque body armor, and that's not a bad thing. It looks quasi-practical, like something Warren Ellis would come up with based on an article he read in some pseudo-scientific journal.
AVENGERS #8
Written by BRIAN MICHAEL BENDIS
Pencils & Cover by JOHN ROMITA JR.
The return of the Illuminati! Marvel's super-secret brain trust has reunited because someone is trying to put the Infinity Gauntlet back together. Who is it and will the Avengers be able to stop them in time? And what does any of this have to do with the Red Hulk?
I quit caring for Bendis' Marvel U stuff a long time ago. Avengers has been a pretty uninspired read so far and the fact that the Illuminati is back doesn't really make me care to really read anymore. Bendis goes back to the well too often for my tastes, and frankly Red Hulk will never be a character that's going to make me want to pick up a book.
But this on the other hand…
SECRET AVENGERS #8
Written by ED BRUBAKER
Pencils & Cover by MIKE DEODATO JR.
Marvel's newest hit Avengers team continues its breakneck pace! Steve Rogers comes face-to-face with an old comrade in arms from the war…who's now working for the Shadow Council! The Secret Avengers Hong Kong Kung Fu extravaganza continues!
This is exactly what I want in a comic book. Brubaker has chosen a pretty great team for the Secret Avengers – one that allows him to explore any story opportunities that he wants. Brubaker has done pretty well with Kung Fu in the past, and I'm sure that this will continue that. However – I'd love to see Fat Cobra show up here…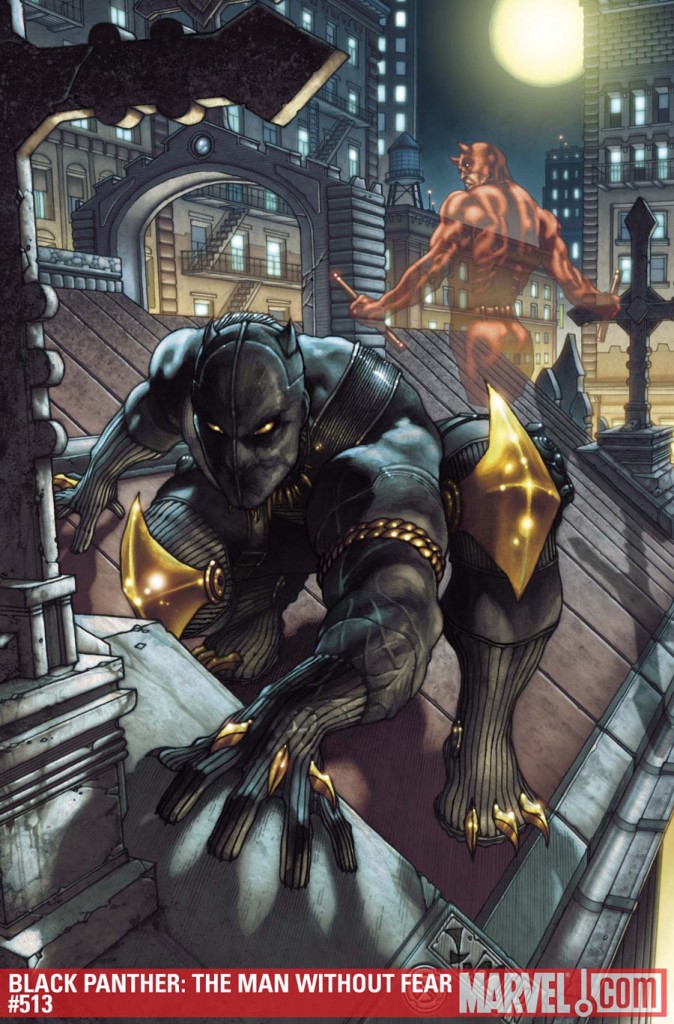 BLACK PANTHER: THE MAN WITHOUT FEAR #513
Written by DAVID LISS
Penciled by FRANCESCO FRANCAVILLA
Cover by SIMONE BIANCHI
Variant Cover by FRANCESCO FRANCAVILLA
In the wake of Shadowland, there's a new protector of Hell's Kitchen! He has no kingdom, no vibranium, and no high-tech safety net–just bloody knuckles and the will to prove himself in a foreign land where the fiercest of jungle predators stalks the most dangerous urban prey! His name is T'Challa, and in the aftermath of Shadowland, he will create a new life, a new identity, and learn what it is to be a different kind of hero. But with Daredevil gone, the bad guys are coming out to play, and a new nemesis–Vlad the Impaler–plots his bloody rise to power. Be there as national best-selling author and Edgar Award Winner David Liss and the pulp master Francesco Fracavilla (Zorro, Green Hornet) begin a shocking new chapter for the world's most dangerous man!
I don't know much about David Liss – a cursory glance at his resume shows that he's a historical fiction writer – so I can't judge the writer. That said, I will admit to being a HUGE Francavilla fan and the idea of him doing Daredevil makes my pants tight. The only thing that makes me nervous? the new bad guy – Vlad the Impaler. I'm really hoping that they stay away from vampire stuff and instead find a balance between the crazy Kirby era Black Panther and the Pulpy Goodness of Miller's initial Daredevil run.
CHAOS WAR: X-MEN#1
Written by CHRIS CLAREMONT & LOUISE SIMONSON
Penciled by DOUG BRAITHWAITE
Cover by Carlo Pagalayan
X-Men greats Chris Claremont and Louise Simonson join artist extraordinaire Doug Braithwaite in a special 2-issue CHAOS WAR tie-in. As the Marvel Universe is destroyed pantheon by pantheon by the dark god, Chaos King, the rift between the underworld and Earth is violently ripped apart. How can a handful of deceased X-Men make a difference in Chaos King's war against life? Get ready for the startling answer when the most unique team of mutants ever bands together to save the Earth from eternal darkness.
Chris Claremont – step away from past X-Men. That said.. any work by Doug Braithwaite is appreciated.
THUNDERBOLTS #151
Written by JEFF PARKER
Penciled by KEV WALKER
Cover by GREG Land
Come sit by the fire and prepare to be frightened…we're going to tell you a "Ghost Story! The Thunderbolts own psychologist, Moonstone, peels back the layers and delves into the mind and past of the brilliant and mysterious paranoid known only to the world as Ghost!
I was ready to drop Thunderbolts during Siege. Not that I didn't like Jeff Parker, he's one of my favourite writers working today, but rather because I didn't much care for the team.
Well, that changed didn't it.
Man Thing was what brought me back, but it was artist Kev Walker's depiction of Ghost that really kept me enthralled. Kev Walker is an amazing artist, his Ghost always has flies circling him, giving him a lanky frame that floats creepily around the rest of the team. I cannot wait for this issue.
BLACK WIDOW: THE NAME OF THE ROSE PREMIERE HC
Written by MARJORIE LIU
Penciled by DANIEL ACUÑA
Cover by DANIEL ACUÑA
The deadly super-spy from IRON MAN 2, INVINCIBLE IRON MAN and CAPTAIN AMERICA in her own action-packed tale! Natasha Romanoff is not a super hero. She's not psychic. She doesn't fly. And yet as the Black Widow, she manages to hold her own against a world of incredibly powerful enemies…and allies. But now someone has tried to kill Natasha…and almost succeeded. Injured gravely, almost beyond her ability to recover, Black Widow sets out to find her attacker…with no suspects and no leads. Who could be deadly enough to get the drop on Natasha? And what connections do they have to some of her closest super hero friends…? Collecting BLACK WIDOW #1-5 and material from ENTER THE HEROIC AGE.
Arguably the best title to come out of the Heroic Age. Marjorie Liu does fantastic work with Natasha Romanoff, and Acuna actually finds a title that fits his specific art style.
Pete DeCourcy is EiC of ComicBookDaily.com. He tumbls over at You Practically Rock and writes for The Simple Art of Crime. If you have any questions or demands of him, he can be reached via email at pdecourcy[at]comicbookdaily[dot]com