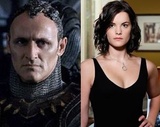 Colm Feore has sort of forged quite a career for a Canadian actor. He's played everything from a bumbling straight laced detective to a contract killer to a doctor in Face/Off. I'm joking, this guy has total chops as an actor, even when he slums it in crap-ass films like that Chronicles of Riddick.  Jamie Alexander on the other hand I'm not really familiar with only because I could care less about television shows about a dude with no belly button trying to grow up or something.
Anyway.. this is Thor news…
According to the Hollywood Reporter:
[Jaime] Alexander is playing Sif, a skilled Asgardian warrior who can hold her own against any man. She also is one of Thor's loves…

Feore's character is shrouded in mystery — the studio isn't even sending the actors the script — though it is known to be a villain.
Alexander and Feore will join Captain Kirk's pappy – Chris Hemsworth, already cast as Thor; Tom Hiddleston, who plays Loki, the god of mischief who serves as the movie's major villain; and Natalie Portman is Thor's love, Jane Foster.
Feore is a Shakespearean trained actor who has spents lots of time in Stratford playing any role they hand him, and doing an amazing job. Any guesses on who he'll play – keep in mind we already know who Loki is, is this going to be some sweet inter-movie news? Because I cannot think of a better actor to play the Red Skull than Feore.